Timeless & Indulgent Jewelry Gifts For Everyone On Your Holiday List
From classic studs to chokers with an artistic spin.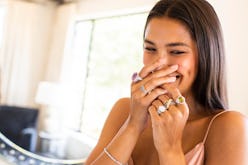 There's no feeling like unwrapping a gift and seeing a little bit of sparkle — especially when it's the kind you can wear. Jewelry is a personal way to show someone you really care, but it's also an opportunity to treat someone to something they may never buy themselves. And because everyone deserves a little dose of luxury this holiday season, why not give them just that?
Jedora is an extensive jewelry marketplace with a range of brands, from familiar favorites to emerging designers. Whether you're shopping for diamond-encrusted hoops or gemstone-laid strands, you can shop with confidence on Jedora. Every brand featured on the site has been vetted by industry experts to meet the marketplace's high-quality standards. Plus, with a range of price points to shop from and styles that range from traditional to on-trend, the retailer has a little something for everyone.
From classic stud earrings they can wear every day to bold and colorful designs that reflect their birth month, we've rounded up 10 unforgettable pieces from Jedora's assortment of gift guides that deserve to be boxed up and tied with a bow.
Luxe Gifts
For the recipient you really want to wow, Jedora's luxury jewelry pieces come in an array of rich gold, dazzling diamonds, colorful gems, and elegant timepieces. Each piece makes for an unforgettable holiday gift today and a treasured heirloom for years to come.
Silver & Gold Gifts
Statement pieces in silver and gold are on-trend, yet truly timeless gifts. For the stylish mom or the minimalist best friend, expect these jewelry box essentials to be worn on repeat all year long.
Classic & Timeless Gifts
If their style leans classic, gift them a piece of jewelry that will never go out of style — from knotted stud earrings to a timeless wristwatch.
Winter White Wonderland Gifts
The building blocks of everyday elegance, you can't go wrong with a pair of classic diamond studs or a bar necklace in white gold.
Colors Of The Season Gifts
For the giftee inclined to a little bit of color, reach for bright gemstones like aquamarine, citrine, amethyst, and more, in classic styles like cocktail rings and delicate necklaces.