Tiffany Reid Is Stepping Confidently Toward Her Goals To Ignite Positive Change
How BDG's Vice President of Fashion is transforming the fashion industry from the inside out.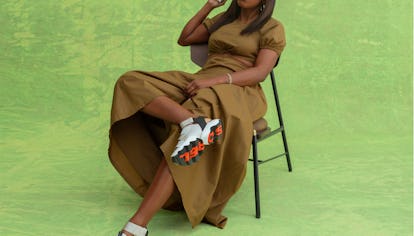 When spring is on its way, it's almost as if an effervescent essence floats through the air signifying a fresh start: Budding blooms, sunnier skies, and renewed hope emerge after grueling winter months come to a close. Whether you're cleaning out a closet, landing a new job, or fighting for equity, the purpose of these resolutions is to ignite positive, impactful change.
SOREL's new campaign 'New Hustle, New Heights' highlights those who are taking up space, owning their narrative, and pushing their respective field to new levels. The fashion world specifically, over the last decade, has shifted its stance on global events that directly (or indirectly) impact the progress of the industry as a whole. Tiffany Reid, VP of Fashion for BDG and Executive Board Member of the Black in Fashion Council, has been able to see that shift take place in the style community.
"The important part for me is making sure this isn't a trend. Making sure I stay on the brands about it," says Reid.
One of her goals this year, and in the years ahead, is challenging the fashion industry to continue having tough and uncomfortable conversations and holding people accountable. "But beyond that, in terms of fashion," she says, it's about "putting in real actionable steps to make sure all of the promises and pledges that were made this summer are being executed on."
Empowering Young Black Creatives
Outside of her work, Reid is active in additional initiatives to make sure those steps are being taken. On the social justice council at FIT, Reid helps Black students and creatives further their own careers by working tirelessly to make sure her narrative –– and those who look like her –– is still being told.
Reid's many roles require an ever-evolving strategy for realizing her vision, both in the short and long term. "My goals always change," she says. "I set my goal each year and break it out by quarter." Though quarantine saw Reid begin many projects she's passionate about, she says the next step is turning those ideas into reality. "So that's really what it is: organizing myself and using the creativity I found to allow those things to come to fruition and making those ideas more materialized."
To step confidently into this transformative season of action, Reid chose SOREL's Kinetic Impact Sandal to pair with what she describes her "sexy, conservative style." The shoe, which easily carries her from video calls to set and from set to casual hangs, slips seamlessly into her wardrobe and overall lifestyle.
Savoring Time with Family and Friends
Besides being a powerhouse in her day-to-day and being a catalyst for change in an industry that has a long history of excluding those like her, Reid's making sure that some of her time this year goes to her loved ones. "I also get to catch up with my family and friends and be with the people I care about. We haven't had that moment," she says.
From organizing her home and tapping into her creativity, to implementing actionable changes and spending time with family, Reid is working overtime to move boldly into this new season. Spring is all about cleaning up and clearing out, and as Reid works toward her goals in fashion and beyond, she takes the style industry to new heights, too.
Photography: Vanessa Granda; Art Direction: Diana Weisman; Hair Stylist: Ro Morgan; Makeup Artist: Jessica Smalls; Styling: Tiffany Reid; Wardrobe Assistant: Copelyn Bengel; Branded Fashion Director: Jenna Wexler; Sr Branded Fashion Editor: Elly Ayres; Production: Nancy Valev