This Style Expert Is Leaning On Colorful Statement Pieces For Spring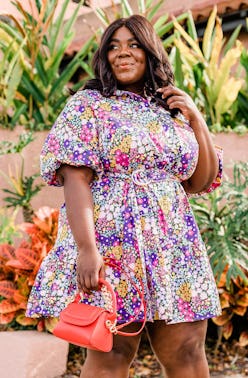 Thamarr Guerrier is no stranger to dressing colorfully, but when spring rolls around, she goes all in. Inspired by the energy the season brings — warmth, positivity, and hopefulness — Guerrier finds herself reaching for brighter hues. "Everything feels like it's coming alive and so does my wardrobe," she says. "I want the pieces I wear to reflect how the nicer weather and longer sunny days make me feel: incandescently happy."
Wearing colorful clothing, Guerrier says, helps her to emote what she wants others to pick up. "Bright tones immediately make me feel bolder and stronger," she explains, but comfort is also a major priority. "It's a challenge to create a stylish and comfortable look; one that I am more than willing to take on every day," Guerrier says. And to do just that, she turns to an unexpected style destination: Walmart.
Filled with key pieces for a colorful spring wardrobe, the retailer has something for everyone. For Guerrier, that's puff-sleeve mini dresses, cheerful floral patterns, and bold accessories — undeniably springy pieces that speak to her classically feminine style. Plus, with a range of sizes and styles at wallet-friendly prices, Walmart brings a whole new meaning to accessible shopping. "Redefining what affordable and stylish shopping can look like for every body type is something that I will always get behind," Guerrier says.
Ahead, shop Guerrier's look and more spring-ready picks, below.