These Brands Are Part Of A Fashion Revolution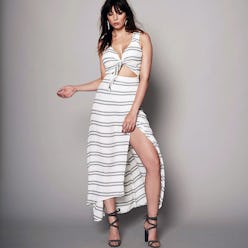 No longer are we confined to the industry norm of clothing sizes—we now have options that cater to a range of body types thanks to a slew of forward-thinking brands. (Hallelujah!) Whether you're petite, tall or curvy, the options to shop for your shape are becoming increasingly expansive—and fashionable. Here, some of our favorite labels embracing the movement.
Melissa McCarthy Seven7
Seven7—a brand that's been around since the '60s—is experiencing a revival thanks to a collaboration with actress Melissa McCarthy on a collection that offers a broader range of sizes. "When you go above a size 12, you don't lose your love of fashion," says Melissa. Her new range reflects that notion. Loaded with separates rendered in energetic prints appropriate for work and play, the collection launches this month.
Availability: Melissa McCarthy Seven7 (launching August 2015), ranging from $59 - $159.
Ann Taylor's Petite Collection
"Say goodbye to your tailor" is the tagline for Ann Taylor's petite collection, and that was enough to pique our interest. (Imagine what we could buy with the money saved!) Recommended for women 5'4" and under in sizes 00P-16P, this collection promises to kiss the days of ill-fitting pants goodbye. The line offers shortened lengths, torsos and inseams across a breadth of the brand's seasonal core styles.
Availability: Ann Taylor Petites, ranging from $25-$198.
Reformation's "For Boobs" Collection
Unique in concept, but highly necessary, Reformation's "For Boobs" collection caters to women with larger bust. The cult brand adored by fashion girls offers slight modifications on its collection of dresses and bodysuits, specially designed to accomodate women with a full C to DD cup. Safety pins no longer needed!
Availability: Reformation "For Boobs," ranging from $58-$328.
ASOS Tall
ASOS—the popular UK-based retailer—offers two exclusive collections catering to tall women (over 5'9"). Glamorous Tall offers seasonal, trend-focused pieces, while Paper Dolls Tall is the go-to for night-on-the-town and occasion dresses.
Availability: ASOS Women's Tall, ranging from $10-$110.