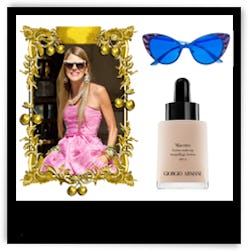 Before we look ahead to all of the trends 2013 has to offer, we thought we'd take a moment to reflect on our chicest stories from the past year. Scroll through them now to soak up anything you missed and brace your inboxes for plenty more glamour in the New Year!
The ZOE Report, Q&A with Anna Dello Russo
Remember that time we interviewed Anna Dello Russo? We're still pinching ourselves over it! Peep the editor's posh answers now.
AccessZOEries, Vera Wang Psychedelic Printed Peplum
Peplum was one of the most prominent trends of the year, and this colorful add-on showed how to work the style into any look.
ZOE Beautiful, Autumn Agenda: 10 Fall Beauty Faves
Though we're beyond excited to start rocking spring's beauty trends, we plan to revisit these fresh fall looks often.
The ZOE Report, Eddie Borgo Serpent Clutch
Arguably the coolest bag we have ever put the spotlight on, Eddie Borgo's holographic clutch made a strong impression out the gate as the NY designer's first-ever handbag.
AccessZOEries, Missoni Sunglasses
Months later and we're still thinking about these candy-like shades. We hope to see plenty more cat-eye options in the coming seasons.
ZOE Beautiful, The Magic's In The Makeup: Giorgio Armani Beauty Maestro Fusion Makeup
The latest luxury foundation from Giorgio Armani, this concoction makes fetching a flawless face a cinch.
The ZOE Report, Proenza Schouler Denim Collection
One of the most effortless and exciting releases of 2012, Proenza Schouler dazzled us with a series of season-less denim staples.
AccessZOEries, Ask Team Zoe: Personalized Jewelry
You asked and we answered! Check out our favorite personalized gems from the past year, which will always be on-trend, and consider incorporating one into your accessory wardrobe for 2013.
ZOE Beautiful, Zoe Do: Statement Shadow
It's not too late to recreate the playful, punchy stares seen on the models in Dries Van Noten's fall show with these easy-to-follow steps.
The ZOE Report, Guerlain by Emilio Pucci
A collaboration made in heaven, Guerlain's creations for Emilio Pucci made us swoon as a summer jet-set must.