3 Insiders' Secrets To Always Looking Stylish On An Interview
Julien Boudet/BFA/Shutterstock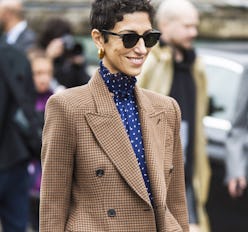 You've polished up your resume, scrolled through vacancies, met industry contacts for coffee, and finally, you've landed an interview. Yes, your qualifications are what get you in the door, but upon meeting your potential new boss, the way in which you present yourself is what will seal the deal, and a stylish interview outfit is one piece of the puzzle. Even if your industry has nothing to do with fashion, demonstrating a directional sense of style will show off your creativity and poise, two characteristics many employers look for in candidates from the corporate world to the tech industry.
It goes without saying that polished pieces are key for any kind of interview, but that hardly equates to suits, blazers, and pumps in every scenario, especially if you're interviewing for a role in a casual environment like a startup or media company. Bright colors and punchy prints are another given for a stand-out look, but there is such a thing as going too far with said tactics in an interview setting. The same goes for statement accessories, which probably has you wondering what the heck is left. Well, fret not. The answer lies in the sartorial expertise of three fashion industry experts who know a lot about dressing for the job you want — in fact, all three have worked their way up the fashion ladder, so clearly, their words are quite wise.
From a fresher take on suiting to the pieces you need to avoid a too-stuffy look, scroll on for the pro-tips and shopping picks you'll need to nail the interview and land the job. Once you're outfit is ready, you can get back to formulating answers to those tough questions like, what is your greatest weakness? And, how you handle critical feedback? You totally got this.
Natalie Kingham, Fashion and Buying Director at MATCHESFASHION.COM
The most important thing when attending an interview is to feel comfortable and confident in what you're wearing, and Natalie Kingham, fashion and buying director at MATCHESFASHION says "don't get caught up in what you should and shouldn't wear". It goes without saying that pieces that bare too much skin like low-cut tops or super-short skirts are a hard no, but Kingham says dressing for an interview needn't mean opting for classic tailoring. "It could be coordinating pieces in a dynamic way," she explains, noting the impact of architectural silhouettes with simple but elevated slides. "We have also seen a move on from power dressing to separates so a great jacket can work with a tailored pair of trousers or skirt option."
Kingham also points out the importance of dressing for the right environment. "We often think about the younger CEO who doesn't want to dress in a traditional 'power way' but instead builds key shirting into her wardrobe," Kingham says. "There is something very elegant and neutral about shirting — it's a palette cleanse for any outfit and can look very polished and elevated, or soft and relaxed," she says, noting a range of weights from cotton to linen and patterns from solid blue oxfords to swiss dots, checks, gingham, and stripes.
For women working in creative industries, Kingham says informal suiting is a stylish option — think heritage checks, warm tones, and double-breasted silhouettes in place of traditional grey or black sets.
Marina Larroudé, Fashion Director of Barneys New York
Barneys New York fashion director, Marina Larroudé stresses the importance of professionalism for a job interview, but in a way where your personal style comes through. "Make sure your style is represented without looking too corporate," she says. "I'd recommend wearing personal jewelry, a colorful dress, or a colorful suit." If the latter is your preference, be sure to go for suiting in colors and shapes that don't feel too fashion forward — in other words skip the fuchsia, electric yellow, and lime green suits and look for a silhouette with clean lines. Classic prints with color can work, too from window pane checks to stripes.
The Barneys New York fashion director also points out that while sneakers are trending in an office environment (often as a cool offset to a suit), they are too casual for an interview. "A heel provides a more put together look," says Larroudé, adding that super-high stilettos can be harsh looking, instead, recommending a fashionable kitten heel. "They go well with dresses or black cropped pants." And don't get stuck on pump silhouettes — slingbacks, mules, and even ankle boots look great with longer dresses and trousers.
Steven Cateron, Head of Design at Club Monaco
Steven Cateron, head of design at Club Monaco, is similarly against traditional black and grey suits for an interview, explaining how a mix of uniquely classic pieces will make more of an impact with the right amount of contrast and tension between them. "Pairing unexpected pieces together to achieve the look of a suit is something we do often at Club Moncao — it shows your confidence and willingness to push the limits," Cateron says. To achieve this, the designer recommends a mix and match of patterns and proportions for a modern feel. "Pairing an oversized menswear-inspired blazer in an updated print with a patterned trouser and a more casual T-shirt feels very cool to me — it strikes the perfect balance between effortlessness and sophistication," Cateron says.
If you're particularly bold, he suggests trying an interesting color instead of pattern. "A monochromatic look in a deep jewel tone is always a beautiful update. I also love to see a blazer paired with a clean, tailored jumpsuit. It achieves the same idea as a more traditional suit, but adds interest and a sense of modernity."