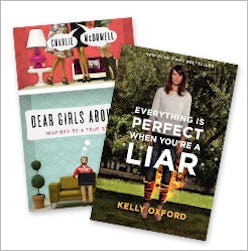 No matter where your summer travels take you, you should always have a great book or two in your bag or on your tablet! Check out the promising new page-turners you won't be able to put down.
Click through for the best new summer books!
Everything Is Perfect When You're A Liar by Kelly Oxford, $20
Blogger Kelly Oxford opens up about childhood, motherhood and her career in this witty, hilarious and riveting tell-all.
Beautiful Fools: The Last Affair of Zelda and Scott Fitzgerald by R. Clifton Spargo, $21
An exhilarating and evocative read, this book charts the romance of Zelda and Scott Fitzgerald—one of America's most iconic literary couples.
The Beginning of Everything by Robyn Schneider, $14. (Available Aug. 27th)
Focusing on the tragic events that transpire in the life of varsity tennis captain Ezra, this heart-wrenching novel puts a modern twist on the classic coming-of-age story.
Dear Girls Above Me by Charlie McDowell, $12
Based on @CharlieMcDowell's popular Twitter feed, Dear Girls Above Me shows how one single guy turned into a better man by thinking like the twenty-something girls who live upstairs.
On The Floor by Aifric Campbell, $16. (Available June 26th)
This gripping novel about love and money centers on the trials and tribulations of Geri Molloy, an investment banker who has three days to decide her destiny.
The Bling Ring by Nancy Jo Sales, $13
Before you see the movie, read this inspired-by-true-events-tale about The Bling Ring: a group of club-hopping teens who robbed some of the biggest names in young Hollywood.
Iris Has Free Time by Iris Smyles, $13
Sure to draw Carrie Bradshaw and Hannah Horvath comparisons, this hard-to-put-down book follows Iris as she navigates life and love in New York City.
We Need New Names by NoViolet Bulawayo, $17
NoViolet Bulawayo's debut novel tells the story of 10-year-old Darling, a Zimbabwe native who travels to America for a new life but struggles to find opportunities as an immigrant.