Rachel Zoe's List Of The Most Glamorous Mother's Day Gifts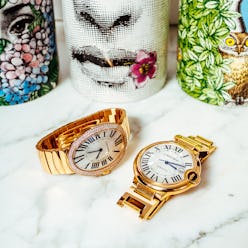 Since our Editor-in-Chief, Rachel Zoe, is one of the most glamorous moms we know, we got her take on the most splurge-worthy Mother's Day gifts of all time. From an iconic fragrance to jewelry that will surely get passed down from generation to generation, these beautiful gifts would put a smile on any woman's face. Click through for all eight must-haves (taken straight from Rachel's own closet) and learn why they're worth the investment.
Iconic Perfume
"One gift that never goes out of style is iconic perfume. Literally, every woman I know would love a bottle of Chanel No. 5 to add to her boudoir."
Personalized Jewelry
"My dear friend and jewelry designer Jennifer Meyer makes the most gorgeous keepsake jewelry. My favorite pieces are engraved with Rodger and my kids' names and initials—I wear them every day."
Cashmere Blanket
"My idea of a perfect Mother's Day always ends snuggling with my sons, Kaius and Skyler, so I keep striped Missoni blankets all over my house—they are a classic gift any mother would appreciate."
Heirloom Watch
"When it comes to accessories a diamond-and-gold watch is the height of elegance. An heirloom timepiece is the perfect gift for my mother, who is one of the most glamorous women I know."
Collectible Accessories
"I've always collected Hermes accessories both new and vintage, and because my family knows this they've been adding to my collection with a single piece each year. Buying your mother something she already collects is thoughtful, and she's guaranteed to love it!"
Layering Diamonds
"Some of my favorite diamond pieces are by my friend and jewelry designer Anita Ko. I'm obsessed with her new diamond necklaces—they're a great gift because you can layer them with different jewelry styles and metals."
Elegant Handbag
"No matter how hard your mom is to shop for, you can never go wrong with a classic handbag. If it's quilted and Chanel, even better!"
Custom Art
"Rodger had a custom portrait of Skyler and me made by artist Aaron Sandnes. A handmade present of any kind—whether it's from a talented artist or something the kids made in school—is so special and priceless."