3.1 Phillip Lim Partnered With Airbnb For A Pajama Collab That's Inspired By The Designer's Favorite Destinations
Courtesy of Airbnb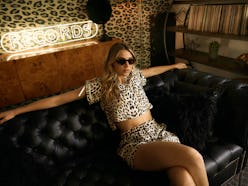 A vacation — even if it involves ample time for sightseeing — is a period for you to simply relax. And while you've probably started to plan out the ensembles for your next trip, a quality set of pajamas should be at the top of your list. After all, when you aren't out exploring or reading by the pool, you're going to need something to wear as you wind down for the rest of the day. Lucky for you, the Airbnb x 3.1 Phillip Lim collab has the only pajama sets you'll want to take — and naturally, they're comfortable and chic.
Typically speaking, you probably don't associate Airbnb with major fashion labels such as 3.1 Phillip Lim. However, in a world where Instagram-friendly trends and experiences reign supreme, it was only a matter of time before the hospitality company — which has become a traveler's go-to for ultra-chic bungalows, one-of-a-kind cottages, and everything in between — would make its way into fashion.
Teaming up with Phillip Lim and his eponymous brand, Airbnb has created a collection of stylish pajama sets for you to take on your next weekend trip. Available in three different prints for $195, these pajama sets are each inspired by the designer's favorite getaway destinations in the U.S.: Nashville, Palm Springs, and Hudson Valley.
According to the collection's page on the 3.1 Phillip Lim website, the collaboration was "designed for the modern global citizen." Each pajama set also uses custom eco-friendly fabrics to take a more sustainable approach. And if that wasn't enough to grab your attention, these pieces were designed for you to mix seamlessly into your vacation wardrobe.
Style the top from the Nashville Pajama Set with a pair of loose-fitting jeans when you're heading out to brunch in the morning. Or, wear the shorts from the Palm Springs Pajama Set as an effortless layer over your swimsuit. You can also wear the full Hudson Valley Pajama Set with the top tucked in. Style it with white strappy sandals for an unexpected (but comfortable) daytime ensemble.
There's no doubt you'll want to live in these every day — whether you're on vacation or not. Scroll down to see each set below, and then head to the 3.1 Phillip Lim website to pre-order your favorite.