Knitwear Is In Its Post-Athleisure Era
The anti-cozification of knits.
@dodieelife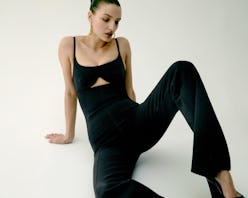 Something is happening with knitwear: It's no longer just a chunky sweater you French tuck into jeans or a preppy cardigan with a few buttons left undone. It's become sporty; it's become sexy; it's become technical knitwear, complete with figure-enhancing compression and slick finishes. This is, in many ways, a fairly novel concept: Anyone who has ever worn a cashmere crewneck or wool dress knows that these types of items are not designed to enhance one's shape or offer structure.
"The problem with [traditional] knitwear is that it's comfortable but it's unforgiving," says Elisa Dahan, founder of Dodiee, a line centered around easy-to-wear stretch pieces with the opposite effect: They both adhere to the body's curves and beautifully move with them. She saw an opportunity for these types of super-versatile pieces in the wake of 2020 lockdowns and the subsequent societal shifts. "There's a return to wanting to be dressed up, but without compromising comfort," she notes. She considers her label to not be an evolution of slouchy pullovers and sporty leggings but a movement in direct opposition. It offers the ability to put on something fitted and fancy, without feeling constricted. Think of it as the post-athleisure era.
Dodiee, alongside a handful of other emerging brands like PH5 and High Sport, is testing the limits of what knitwear can be. And while there are legacy brands that exist in the larger universe of polished ease (think of Azzedine Alaïa and Issey Miyake as different ends of this larger spectrum: one hyper-femme, the other relaxed and arty) this new class of brands' innovative approach to fabrication — which feel casual but look incredibly elegant — make it unique in the market.
A Show Of Support
There's no doubt that increased interest in dressed-up lounge- and athleticwear began pre-2020 (see: the athleisure craze of the mid-2010s). But, according to Dahan, more than a year spent in sweatpants definitely accelerated what was already happening. Once the world began to turn on again, women wanted to dress up — and after spending so much time away from constricting workwear and tight dresses that allowed little room to breathe, many of them were unwilling to go back.
In this brave new era of getting dressed, body-hugging spandex has replaced corsets, girdles, or other historically tortuous ways to encase the body. Since launching in 2019, Kim Kardashian's line of shapewear, Skims, has reached a valuation of $3.2 billion, proof that the compression industry is booming. But, for those looking for an alternative, the embrace of technical knitwear can finally offer that. "Our bodies move and change throughout the day depending on what you're eating, if you're bloated, if you're drinking," says Wei Lin, founder of PH5. "Knitwear wants to form and shape to your body."
Lin has developed sporty pieces like bike shorts or leggings but says her customers mainly come to PH5 for occasion pieces. The bold colors and prints have become popular for wedding guests and graduates alike; on occasion, the UV dress has even provided the big news at a gender reveal, turning pink when exposed to the sunlight. She makes clothes that feel celebratory and can withstand the trappings of a good party — cake eating, dancing, and all.
Dahan also aims to create clothes that won't leave you pining for sweatpants midway through a night out. "There's amazing knitwear out there, and there's great shapewear," Dahan says. Her work combines both — and the technique is now patent-pending, further assurance that what she's doing is something completely different. On Dodiee's website, clothing is labeled as one of three levels of compression, all built into the weave itself. The Gisele form knit midi dress, for example, is labeled as C-02, or compression Level 2, which offers a mix of support and movement. C-01 is a more relaxed fit, while C-03 is the most compressive.
Dahan has even developed knits that contain different fits within a single piece depending on where a woman might want additional support. "What Dodiee offers is targeted compressions in the areas that we need," Dahan says. "You have a lot of support at the stomach, a lot of support at the hips, but then the skirt should have no compression."
Technical Difficulties
While the nitty-gritty engineering that goes into this new guard of knitwear brands is a bit of an insider baseball discussion, there's no denying that the technology (whether you understand how it works or not) is affecting how people shop. High Sport founder Alissa Zachary, for instance, has found particular success in a pair of work pants made of a blended knit of Lycra and nylon that took four years to develop before coming to market. The under-the-radar knitwear has become the de facto favorite among in-the-know fashion editors like Laurel Pantin, the editor at large at ByGeorge, and influencer Leandra Medine. As an alum of Khaite and The Row, Zachary manages to create pieces that imbue the idea of accessible luxury by combining clean lines and a tailored look with forgiving fabric that won't wrinkle and can be worn all day.
For Lin, direct access to knitwear factories allowed PH5 the opportunity to take a hands-on approach. The founder is the daughter of a large knitwear manufacturer and has used her knowledge and access to push the boundaries of what it can do, from molding into unexpected patterns and shapes or offering UV sensitivity.
"You have to be a designer and then you also have to have a little bit of an engineer's brain as well, because we make all our fabrics from scratch," says Zoe Champion, the designer of PH5. "It's always about trying to find something that traditional knitwear hasn't done or couldn't do and work out how to do it." The label's ability to nimbly develop their own materials in innovative ways has opens a new realm of possibility — and makes the items difficult for mass retailers to replicate. "We're at a stage where it's almost impossible for anyone to copy us unless they want to spend the same amount of time as us, whether it's knitting machine time or computer time," says Lin. "One of our signature dresses, the Jodie dress, takes 16 hours on a machine. No fast fashion brand is willing to do that and then sell it for $40." To wit, the growth of this particular corner of fashion remains reserved for the group of brands with the knowledge and capital to create it.
Swan Gallet/WWD/Getty Images
And grow it will, as consumers only are continuing to demand a combination of ease and elegance from their wardrobes. PH5 plans, for one, to expands its size range and move into more gender-fluid designs — options will only continue to open up as manufacturing technology advances. Meanwhile, High Sport pants continue to sell out the second they hit luxury e-tailers (pro-tip: You can pre-order a few styles on Moda Operandi right now), and Bottega Veneta debuted knitted leather boots for Fall/Winter 2023 that, from far away, look like a pair of scrunchy, oversized socks. It seems the future of easygoing fashion is not the gym-to-street vibe, but instead stealth comfort for every aesthetic — pieces that are refined or sultry or structured, but make you feel as if you could be out in sweats.