Team Zoe's Shopping Picks For Sale Season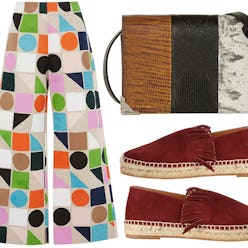 Since our careers are built around everything related to fashion, style and shopping, we'd like to think we're pretty good at sale season. In fact, we consider it an art form. See what our team is buying now (because we know a deal when we see one).
Megan Gustashaw, Editorial Director
"I have three weddings coming up with vastly different vibes, and I feel like now would be a good time to find a few really great dresses I'll wear beyond these events. I'm looking for something chic and family-friendly for a wedding in North Carolina, something bohemian for a wedding in the Catskills, and something glamorous for a black-tie wedding in Los Angeles. I usually go short, but I've been really feeling maxi-length dresses lately."
Kristi Mikesky, Fashion & Beauty Editor
"I've mulled over which pair of espadrilles to buy for months and still haven't pulled the trigger. I love that this Chloe style still feels classic, but the fringe embellishments make it a little more fun."
Sari Anne Tuschman, Editor-At-Large
"I love the innate girly-ness of this top—white eyelet epitomizes summer to me. It's perfect for everything from al fresco cocktails to backyard barbecues. And honestly, who can resist Isabel on sale?"
Stephanie Montes, Beauty Editor
"Let's be frank, Valentino on sale is still a splurge so it needs to be versatile. This dress will look great with a pair of gladiator sandals and milkmaid braids or dressed up with strappy pumps and statement jewelry."
Jennifer Ash, Accessories Editor
"I've been on the hunt for a neutral mid-heel sandal, and this now-affordable option from Gucci fits the bill."
Shannon Nash, Fashion & Beauty Editor
"The only thing better than a Missoni striped jumpsuit is one that is on sale! I'll wear this barefoot for a BBQ in Kauai and with heels and jewels for date night."
Jaclyn Decell, Community Manager
"I've been searching for a small statement bag so I can stop slamming into people at happy hour with my massive tote. I love that this one is small enough to stash inside my tote during office hours but that it still has a strap so my hands are free for Snapchat and a Manhattan."
Samantha Sifantus, Lead Developer
"This gorgeous leather cocktail dress is warm enough to wear without a jacket."
Nicky Deam, Fashion Director
"Party pants! I'll wear them with a black silk button-up for the office and with a long-sleeved, white crop top on the weekend."
Nicole Cutright, Ecommerce Manager
"I'm planning my summer trip to Hawaii with my husband and now that swimwear is on sale, it's the perfect time to buy! This Mara Hoffman one-piece is exactly what I'm looking for: It's simple yet interesting, and I can throw on a skirt to take it from the beach to a casual dinner."
Sarah Aguas, Brand Integration Director
"I need this breezy dress from my favorite Aussie brand. It'll take me everywhere from Venice Beach to Palm Springs to Ibiza."
Christian David, Art Director
"I may not need another pair of black flats but these are simple, timeless and feature gold stud details on the heel. "