Rodger's Pick: A Great Man-Bag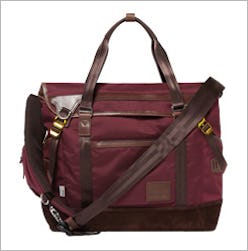 With fall approaching, it's essential to find a great seasonal man-bag to take you from the day-to-night workweek grind to (hopefully!) a much-deserved weekend getaway. An ideal carryall option, approved by resident fashionisto Mr. Rodger Berman? Master-Piece's Leather-Trimmed Tote Bag! Rendered in a tough waterproof canvas with zipper closures, leather trim and multiple pockets, RB describes the tote as "masculine with plenty of functionality—great to throw your iPad, laptop, jacket and other daily essentials into. It's cool and casual without seeming sloppy, so it works with jeans and a t-shirt or a button-up and blazer." Carry on, boys!
Availability: Master-Piece Potential Leather-Trimmed Canvas Tote Bag ($580).