3-Piece Outfit Formulas Real Girls Rely On When They Have Nothing To Wear
Szymon Brzoska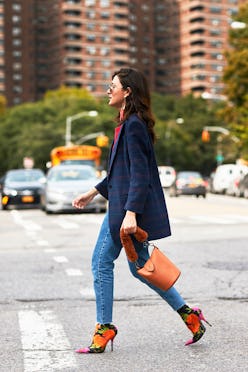 Good style continuously evolves as we experiment with seasonal trends and update our wardrobes with new pieces. However, by now we've figured out which combinations of clothes and accessories work for us, allowing us to craft a reliable look that's especially helpful on mornings when we struggle to get dressed. Such formulas immediately make us feel confident, comfortable and polished when we need it most. To help you discover your own go-to outfit, we're lending inspiration with our team's easy three-piece getups we repeatedly reach for. Peek ahead for 12 flattering ensembles that'll never let us down.
Editor-Approved Outfits
"A high-neck printed midi dress, tall boots and a top-handle purse can take me pretty much anywhere with confidence."
—Nicky Deam, Editorial Director
"My go-to look is typically some kind of funky blouse paired with wide-leg jeans and short-heeled mules because it always reads polished, despite the minimal effort."
—Kristin Mahler, Graphic Designer
"I live in midi skirts teamed with a white T-shirt or black turtleneck in the winter. Low-heeled mules are my go-to finish."
—Laura Lajiness, Senior Fashion Editor
"For me, a sweater, cropped flare jeans and booties always seem easy to throw on but still look fashionable."
—Lauren Black, Content Analyst
"I tend to reach for a feminine blouse and culottes or wide-leg trousers paired with a slight heel (usually pink or white) for a look that's both casual and chic."
—Samantha McDonald, News Editor
"I'm usually a jeans and T-shirt kind of girl, but lately I've been reaching for a midi dress, mules and leather jacket. It feels put-together without being fussy—and it's comfortable."
—Allie Flinn, Associate Lifestyle Editor
"My favorite outfit formula is a structured leather jacket, a fitted bodysuit and mid-rise jeans. I feel that this is what flatters my body best, and I love throwing a jacket over everything for more of a statement."
—Andrea Navarro, Associate Beauty Editor
"I always feel put-together in a striped poplin shirt, and a fashion-forward version with dramatic sleeves is a must-have. I love to tuck it into high-waisted distressed jeans, which I wear all the time whether I'm at the office or going out. Statement earrings are a no-brainer for adding a touch of glam."
—Amy Lee, Fashion Editor
"Whenever possible, you'll find me in a miniskirt, turtleneck and booties. I love the femininity of a skirt and also find it more comfortable than tight jeans, especially when going out to dinner or drinks."
—Rebecca Iloulian, Marketing Manager
"I can never go wrong with a sheath dress, lightweight trench and the highest pumps. It always feels polished but not too dressed up."
—Stephanie Montes, Beauty Director
"I love a good band tee, vintage Levi's and a worn-in leather jacket. I rarely commit to the sleeves, so you'll typically see it hanging over my shoulders when I'm out and about."
—Alyson Fishbein, Social Media Manager
"I love high-waisted boyfriend jeans paired with a feminine cream-colored blouse (I have a million) and dressed up with fun shoes. I like to express myself with my footwear, so a colorful or embellished heel is my typically go-to. It's the perfect way to elevate an otherwise basic outfit ... and it makes it look like I put more effort into my ensemble than I actually did."
—Angela Melero, Managing Editor