Saturday Style: Black & Gold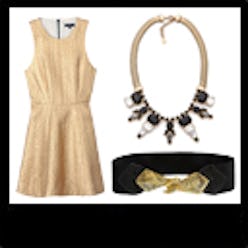 Whenever you find yourself stuck on what to wear, one infallible strategy for determining your direction is to choose a color scheme. To show you how it's done, we conjured up a cocktail party getup based completely around black and gold—our team's signature hues! Ideal for any seasonal soirée, this glamorous ensemble strikes the balance of being totally timeless while also evoking a cutting-edge feel. Let the look inspire your next festive uniform and you're guaranteed to knock it out of the park!
P.S. Is your outfit missing something? Jazz it up with some chic accessories from Marciano!