I Always Ask These 5 Questions Before Cleaning My Closet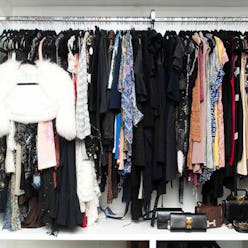 When I was five my mom loved dressing me up in tiny shirts that said things like "Addicted to shopping" and "Future shopaholic." Now I'm 25 and the doors of my closet just broke because a sweater fell from a massive pile and got stuck in the hinges. Not only did the doors break, but I couldn't even make out a pair of white jeans from a leopard miniskirt. There was just so much stuff everywhere. My mom thought those shirts were all fun and games, but who's laughing now? Hint: It's definitely not me.
Whether or not I was influenced by my early childhood outfits is irrelevant, I love both shopping and clothing and somehow cannot find a way to properly contain it all within the constraints of my closet. Some people may say I have a shopping problem, but I like to think I'm just overly prepared for every possible weather or party scenario. As much as I love always having something to wear, I'll admit there are things I can get rid of. I try to clean out my closet every two months, which is usually the amount of time it takes to get completely out of control and also the perfect time frame in which to refresh my wardrobe for a new season.
Having cleaned out my closet many times, I've started to realize there isn't so much a set of steps to follow as a series of questions to ask yourself. Talking yourself through it instead of holding yourself to a rigid set of guidelines will make the whole thing feel a lot less overwhelming. Here are the five questions I always ask myself when I desperately need a closet refresh. Honestly, being organized and talking to myself has never felt so good.
1. First Things First, What Are The Things I Hate In Here?
I think it's best to immediately open up your closet and get rid of pieces that are top of mind when you ask yourself this. There are things in my closet I never, ever wear, but I also never get rid of them. I know what they are almost immediately because I consistently pass them over every single morning. If you have something in your closet you know you dislike and you never feel inclined to put on, start by getting rid of it.
To read the full article, visit Coveteur.