Here's Why You Should Never Underestimate The Power Of Jeans And A White Top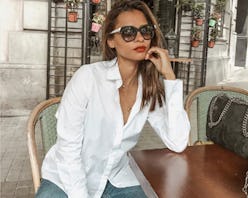 The tried-and-true combination we know as jeans and a white top proves that just because something is simple doesn't make it boring. For years, we've paired the two pieces together on the regular—rotating variations of the two, depending on our mood—typically when we're in a jam and need a quick ensemble that we know won't steer us wrong. Well, you'll be relieved to know the dynamic duo is not losing steam anytime soon. This season, fresh and breezy options abound for the white-top-and jeans team, and we can prove it. Whether you're heading to the office, going to a casual lunch or hitting the town, this foolproof formula is ideal for those days when you feel like you have nothing to wear…and we all have those days.
White Top And Jeans Forever
For Work
Pair a white button down with sleek skinny jeans, heeled mules, and a chic tote for a classy and simple office look.
On The Weekend
Rock a plain white tee in the chicest way possible by adding relaxed fitting denim, trendy sneakers, and a bold leather backpack.
Going Out
Who says jeans and a white top are reserved for day time? Combine a flattering pair of flare jeans with a delicate top, neutral platform sandals, and a fashion-forward beaded bag.