How To Wear The Perfect Transitional Dress All Weekend Long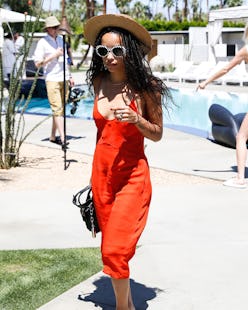 With only two sacred weekends of summer left, we're officially committed to soaking up every last ray of sunshine. Fortunately, this weekend happens to be FYF in Los Angeles so you'll find us swaying to Father John Misty and dancing to the rhythm of Grace Jones. But no matter what adventures you have planned, who really has the time to shop for two looks? Here, we show you how to wear one piece all weekend without anyone noticing. And if they do, they'll give you props.
Weekend Style
Saturday
Knock out two of fall's biggest trends with a velvet slip dress that you can wear with just about anything. Pair yours with black ankle boots, a beaded bucket bag and edgy shades. Add a light military jacket when the sun goes down.
Sunday
Reimagine the dress as a tunic by layering it over skinny denim. Finish the look with suede sandals, an embellished purse and sunglasses.