How To Wear The Box Of Style Hero Bag In 4 Distinct Ways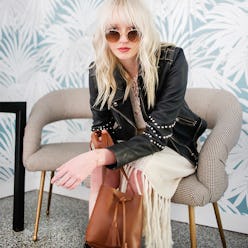 A versatile bag is undoubtedly an essential piece in every girl's arsenal and it's never too early to shop for next season's style. While winter calls for a textured, darker-hued tote, spring begs for a more lightweight option in a neutral color. Enter the spring 2016 Box Of Style hero piece—with its brown-tonal hue, compact size, fringe tassels and cross-body design, it is the perfect warm weather carryall to complement a variety of outfits during the climate transition. To prove how adaptable it truly is, here are 4 different looks and styling tips to try now.
Don't forget to order the spring 2016 Box of Style here before it sells out! Boxes will ship beginning March 1st.
Next Season's Must-Have Bag
Photographer: Tessa Neustadt
To The Office
Style tip: When the cold doesn't seem to completely subside play with various textures and lengths such as a velvet maxi and faux fur vest for coverage.
Running Errands
Style tip: Opt for a comfortable yet whimsical ensemble with an off-the-shoulder sweater, denim culottes and quirky slides.
Evening Drinks
Style tip: Pair the bucket bag with a cool printed coordinate set and suede pumps for a night out.
Weekend Brunch
Style tip: Bust out that breezy sundress and add a tomboy flair with leather sneakers and utility jacket.
Order Now
Become a Box of Style member in time for our spring delivery, shipping March 1st.