How Fashion Insiders Transition Their Favorite Summer Pieces Into Fall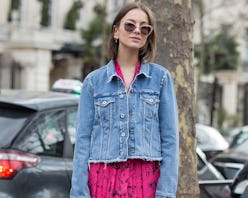 Transitioning from summer to fall can be tricky in the style department. It's still warm enough that hefty layers aren't quite right despite your excitement to shop the latest fall trends. And at the same time, you're no doubt trying to get as much use out of your breezy dresses, shoulder-baring tops and cut-off shorts before the turn of weather. A true fashion calamity.
Dramatics aside, August and September dressing is all about balance and figuring out how to extend the life of your favorite summer pieces whilst taking stock of new arrivals to freshen up your go-to formulas.
Truth be told, there's no greater group to look to for inspiration than the fashion-insider set. You know, the buyers, fashion directors, stylists and designers who basically decide the exact pieces you're going to love each season. They're riddled with sartorial know-how from tips on how to layer your beloved floral mini dress in cooler weather to the outerwear pieces that will make your favorite white T-shirt sing in the new season.
Here, read on to see how 10 ultra-chic insiders take their favorite summer items into fall. Plus, shop the pieces you'll need to re-create each savvy outfit formula on your own. Your in-between season just got a lot more stylish.
So Long, Summer
Heather Shimokawa, Bloomingdale's VP and Fashion Director for RTW
"I love these belted striped pants from Faithfull the Brand for summer, they are so easy for the beach and running around on the weekend. Pairing these with a chunky turtleneck sweater under a great leather jacket perfectly transition them into a fall staple."
Marina Larroudé, Fashion Director of Barneys New York
"I love to wear my floral dresses with a tough boot and leather jackets. I wear so many dresses and I love to continue to wear them as the season changes."
Ruth Basloe, Styling Director at Nordstrom
"Designers like Isabel Marant made anoraks and windbreakers a must-have for spring 2018. With the influence of sport and tech continuing into fall, these lightweight outerwear styles will make great and unexpected layering pieces, especially zipped up and worn like a shirt."
Brooke Fisher, Vice President and Divisional Merchandise Manager of Women's Contemporary at Bergdorf Goodman
"I would take this Helmut Lang slip dress and toughen it up for fall with a biker jacket. A black belted blazer works, as well, for a more polished look."
Aurora James, Founder and Creative Director of Brother Vellies
"I'm pretty sick obsessed, especially when it comes to transitioning summer shoes to fall. I'm super excited to experiment with our Glass Slippers in athletic socks and also some of the semi-sheer graphic socks out right now."
Natalie Kingham, Fashion and Buying Director, MATCHESFASHION.COM
"One of my essentials for summer is always a classic white T-shirt and The Row and Frances de Lourdes are brands that are amongst my favorites for their meticulously designed styles. Moving into the cooler seasons, the white T-shirt becomes a great base for layering with tailored jackets, chunky knits and a top piece for skintight roll necks."
Micaela Erlanger, Celebrity Stylist And Author of How To Accessorize
"The easiest way to transition your pieces into fall is to layer and accessorize! Try adding a leather jacket over a floral dress. Pair with a wide brim hat and booties to keep your look seasonally appropriate."
Erica Russo, Bloomingdale's VP and Fashion Director for Accessories and Beauty
"The spring and summer it shoe was the chunky trainer or "dad sneaker" and we don't see this slowing down anytime soon. As the temperature drops, I'd pair these back to a cropped black vinyl skinny pant and chunky sweater (preferably in a bright, fun color!)."
Caroline Maguire, Fashion Director of Shopbop
"My favorite transitional piece from summer to fall would be a printed mini floral dress. Throw on your favorite denim underneath, grab your leather coat and you're set!"
Susan Alexandra, Designer
"I don't believe in seasonal dressing—to transition my wardrobe to colder weather, I'll employ the use of layering. Sparkly socks with my Birkenstock's. Turtlenecks under bias cut slip dresses. Beaded bags and colorful jewelry, always (duh)."