Saturday Style: Game Day Darling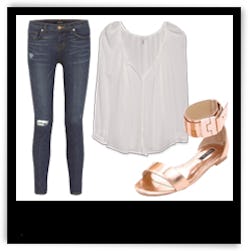 We'll be frank with you: we don't know very much about football, but that has never stopped us from partaking in all of the activities that Super Bowl Sunday has to offer: the half-time show, homemade hummus dip and table football! Of course, we're also looking to tomorrow as a moment to sport a casual, yet thoughtfully put-together outfit. Take inspiration from our envisioned ensemble below, and you'll no doubt score a touchdown in the style department.
P.S. Roses and chocolates never hurt anyone, but what every fashion-forward girl really wants for Valentine's Day is accessories! Fall in love with Michael Kors' arresting add-ons now.