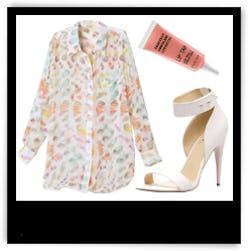 Music festival season is upon us, and we can think of no better way to honor the free-spirited pastime than with plenty of concert-ready clothes. Seeking ideas for your own show-going wardrobe? Keep a steady eye on our pages, because we'll be showing a festival-appropriate, shoppable pick every day in April. Of course, you can look to the runways too, where gems like Dolce & Gabbana's Raffia Bustier and Skirt offer incomparable inspiration.
Featuring colorful umbrella stripes and charming head-shaped motifs, the Italian design house's raffia duo is the ultimate guiding light. Pair it with flat sandals, a crochet headband and drop earrings, and you'll yield a getup that's sure to dazzle and delight at whichever music carnival you choose to attend. Looking for a more pocket-friendly alternative? Try Topshop's Red Aztec A-line Skirt to conjure up a similar aesthetic without breaking the bank.
Availability: Dolce & Gabbana Raffia Bustier and Skirt ($2575-$2745, available at select Dolce & Gabbana boutiques, 877.70.DGUSA). For additional information, visit Dolcegabbana.com.