This Is The Secret To Great T-Shirt Design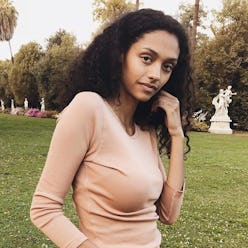 We're gonna go out on a limb here and say that we're fairly certain everyone on earth owns at least one basic T-shirt. White, gray, black, striped—whatever the color or pattern preference, we all have one stashed in our drawer for a comfy day (or every day, in our case). What is it about this staple that makes it such a, well, staple? While we can talk for hours on end amongst ourselves, we decided to consult with a bonafide expert on the magic that is the basic tee. Yes, we tapped Margaret Klevelend, CEO and co-founder of Dôen, the ultra-chic California-cool brand known for its flattering and easy silhouettes that include—that's right—T-shirts. And, with a well-rounded selection of short-sleeved, long-sleeved and camisole styles, the brand has proven that it knows its way around a basic tee. Check out what Margaret had to say about the classic wardrobe fave and check out our favorite T-shirt-infused pairings for spring!
Tee-Off
TZR: What are the hallmarks of a great tee? Margaret Klevelend: Classic design, mid-weight fabric and neutral basic colors that work well with anything.
TZR: What are the details of these designs that you are most proud of in terms of Dôen's offerings?
MK: Our tees are made in Peru of the softest, mid-weight Pima cotton—the kind you'll want to live in. The kind that makes you feel sexy, yet still very comfortable. We adore the nostalgic scalloped trim on the neckline—reminiscent of our favorite lingerie tees from the '90s.
TZR: How can someone get away with wearing a tee to the office or for evening?
MK: Easy! Pair it with a good pair of high-waisted pants.
TZR: How can someone extend the life of their favorite tee?
MK: Our tees are machine-washable, but it always helps to lay them flat to dry. The occasional trip to the dry cleaner never hurts, either (especially for shades of white!).
Try an earth-toned T-shirt in lieu of traditional white for your Saturday errand run.
An easy long-sleeve pairs well with pastel trousers for an ideal springtime office ensemble.
Elevate that basic white tee by throwing it together with a feminine printed midi skirt. The look strikes the perfect balance of comfy and classy.