7 Halloween Costumes You Can Wear Again in Real Life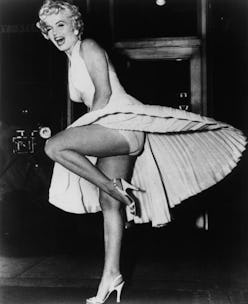 For a woman whose favorite holiday is Halloween, I am dreadfully unoriginal when it comes to costumes. I have been the same thing year after year for the entire span of my adult life: Marilyn Monroe in The Seven Year Itch. I blame the dress—a vintage, silk number I dug out of my mom's old collection of resort season clothes back in high school. The dress ranks among all-time favorite things I've ever worn—so if I have to risk being a repeat-costume offender to get regular use out of it, so be it.
This season, it's time to up the ante a bit. Good riddance to the tarty (insert any occupation/animal/fruit here") get ups or the polyester bastardizations of Daenerys Targaryen's badass Game of Thrones outfits already hanging in the windows of every Halloween shop within a ten-mile radius. Spending your Halloween fund on long-term wardrobe pieces (both splurges and steals) is totally doable if you strategize your costume right. Try one of these fashion-inspired costumes—all created with items you can wear again—and your look will be a hit on All Hallows' Eve and beyond.
Check out the original article on Allure.
By Macaela Mackenzie, Allure Contributor.
Holly Golightly
Would it be Halloween without at least one Holly Golightly? Chalk it up to the ease and timelessness of the LBD. Update your Breakfast at Tiffany's costume this year with a crystal headband you can wear year-round in lieu of a tiara.
Holly Golightly
Zara dress, $69.90 (zara.com).
Opera-length black gloves, $24 (luxurydivas.com).
Le Specs sunglasses, $58 (matchesfashion.com).
Kenneth Jay Lane faux pearl necklace, $150 (saksfifthavenue.com).
Kendall and Gigi
For this one, your best gal pal becomes your best accessory: Consider models of the moment Kendall Jenner and Gigi Hadid as 2016's answer to Romy and Michele (still a classic). To pull this off, technically all you have to do is look chic AF (you can't lose with a little Balmain) and spend the night having fun and taking selfies. To go for a more down-to-earth look, try the twin bomber-jacket-and-leggings look. Bonus: You'll be a contender for both comfiest and chicest costume.
Kendall and Gigi
H&M leggings, $9.99 (hm.com).
H&M bomber jackets, $34.99 (hm.com).
Ray-Ban aviators, $150 (ray-ban.com).
Boohoo turtleneck top, $10 (boohoo.com).
Chanel small classic flap bag, $4,700, available in Chanel boutiques.
Frida Kahlo
Artist, style muse, and all-around Renaissance woman, Kahlo (with her signature flower crown) is a staple of the Halloween scene. Give the look a modern twist with a floral shirtdress and over-the-top Dolce & Gabbana-inspired diadem—both of which you can wear again when spring rolls around.
Frida Kahlo
Zara shirt dress, $69.90 (zara.com).
J.Crew beaded tassel earrings, $65 (jcrew.com).
Rosantica headband, $360 (net-a-porter.com).
Glossier Boy Brow, $16 (glossier.com).
Duchess of Cambridge
The Duchess of Cambridge could easily be called the Duchess of Style for her seemingly endless parade of chic and often affordable looks. (Halloween gold mine.) Rather than purchasing a cheap tiara, up your princess game and royally upgrade your closet. Plus, a flawless blowout is a must.
Duchess of Cambridge
Zara dress, $39.90 (zara.com).
L.K. Bennett pumps, $345 (nordstrom.com).
Sapphire CZ ring, $22.40 (evesaddiction.com).
North West
If there was ever an excuse to splurge on a Balmain blazer, this is it. North West would never step out without one and neither should you when you replicate her best fresh-from-the-barre look this Halloween. Toss it on with a bodysuit and tutu à la North for a costume whose chicness will endure in your wardrobe long after the Halloween hangover is gone.
North West
Rag & Bone blazer, $450 (matchesfashion.com).
Ballet Beautiful tulle skirt, $165 (net-a-porter.com).
Yummie by Heather Thomson bodysuit, $35 (net-a-porter.com).
Glamorous nude ballet shoes, $33 (asos.com).
Carrie Bradshaw
Carrie is the ultimate style icon. There are so many memorable looks you can cobble together with your wardrobe staples, but to go for a classic, rock some strappy investment heels—Manolos, obviously—with a tutu (or Nori's tulle skirt in the previous slide) from Sex and the City's opening credits. You won't be able to help but wonder how many times you'll be able to wear this outfit again.
RELATED: Sarah Jessica Parker Puts Her Twist on the Carrie Bradshaw–Approved Little Black Dress
Carrie Bradshaw
Ballet Beautiful leotard, $60 (net-a-porter.com).
Manolo Blahnik sandals, $725 (manoloblahnik.com).
T3 styling wand, $270 (sephora.com).
Penny Lane
Kate Hudson's Penny Lane in Almost Famous wasn't just the wild rock-and-roll loving sister you wished you had (or were), she was also major style #goals. Luckily, the recent resurgence of Penny's signature '70s vibe makes her iconic look supershoppable. Skip the blow dryer, throw on some blue tinted shades, and let the music do the rest.
Penny Lane
River Island faux fur coat, $190 (riverisland.com).
H&M skirt, $29.99 (hm.com).
Bumble and Bumble styling cream, $31 (sephora.com).
Ray-Ban aviators, $165 (bloomingdales.com).
RELATED: A Fashion Insider's Guide to Clever Halloween Style and Beauty