3 Ways To Recycle A Cocktail Dress, According To Top Stylists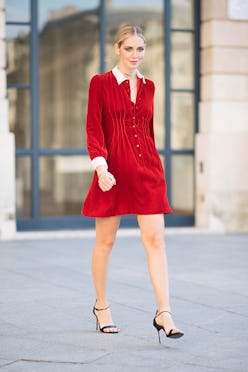 Discerning fashion girls everywhere adore Armarium for its wide selection of elevated runway pieces available for rental, but more importantly, for its brigade of stylists who'll assist them in putting together outfits for events, nay weekends, when they need to look their best. Armarium has just embellished that service with the introduction of Armibot, a digital stylist who compiles all your preferences, sizes and questions in order to generate customized lookbooks tailored to your personal needs. It suggests pieces not just to rent from the site but also pieces to purchase from a wide range of elevated retailers. (Think: Clueless algorithm that pulls from Armarium's closet and all your favorite e-commerce sites.) Here, we asked a few of its top stylists to suggest pairings for a statement cocktail dress.
Homepage image: Getty Images
J. Errico
Quintessential New Yorker, J. Errico recommends adding edge to the dress by way of studded ankle boots and metallic extras. Perfect for "hitting the hottest party downtown". We couldn't agree more.
La Marque
Meredith Melling and Valerie Boster of La Marque gravitate towards the unexpected, as evidenced by their selection of a tongue-in-cheek earring and contrasting heel.
Nausheen Shah
"Just add sass" is Nausheen's advice when it comes to styling this cocktail dress. We love the fearless pink accessories and flirty earrings she chose.