3 Easy Vacation Outfits Handpicked By Fashion Designer Caroline Constas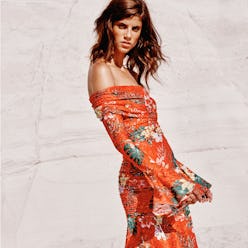 Caroline Constas' designs have become synonymous with travel in that they imbue the exact laissez-faire polish we all crave on vacation. With weightless cottons and breezy silhouettes (made to accentuate a woman's frame) at the crux of Caroline's decidedly feminine aesthetic, her voluminous off-the-shoulder tops and frilled dresses are the perfect pieces for whatever the season throws our way. Here, we tapped the widely embraced designer to share three of her favorite items for summertime travel, along with tips on creating effortless outfits whether you're embracing the California sun or setting out on an exotic escape. Get inspired for warm-weather wanderlust ahead.
Perfect Vacation Outfits
Caroline Constas
For Daytime
"I designed the Olympia dress with a summer jet-set schedule in mind: sightseeing during the day, lunch, followed by evening cocktails. This dress will get you through that sort of itinerary. I love it paired with this suede fringe Saint Laurent bag."
For Cocktails
"I'm loving embroidery on denim these days. A high-waisted jean to go back with my Carmen off-the-shoulder classic is one of my favorite summer looks. I love to style this look with a pointy-toed kitten heel in patent leather to add a little glam. I'm also really looking forward to wearing many straw bags this summer!"
For Evening
"I am so excited to wear my Leda off-the-shoulder lace printed dress. I think the soft femininity pairs nicely with this hard-case Deco-inspired minaudière."