The 2-Second Trick For Telling Whether Heels Are Comfortable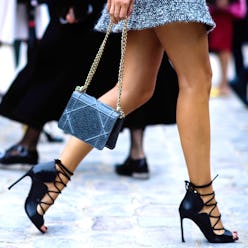 Photo Credit: SHEfinds
Homepage Photo Credit: Adam Katz Sinding
Buying new heels is always dicey. Especially if you buy them online or can't try them on in the store–you have no idea of knowing whether they'll be the most comfortable shoes in the world or if they'll be horribly painful and wreak havoc on your feet. Some shoes that you assume would be comfortable, like low heels or wedges, can turn out to be the worst culprits. You just never know! That is, until right now when I'm going to drop the most amazing truth bomb on you: there is a way to tell if heels are uncomfortable just by looking at them. This 2-second trick is a game changer and every shoe lover should know it.
What is it? It's all about the distance from the sole to the heel. The longer the distance (ideal: 3cm or greater), the more comfortable the shoe will be. As Glamour points out, this is because this distance dictates the pitch (read: incline) of the shoe. The shorter the distance (2.5 cm or less), the higher the pitch and the more weight that's transferred to your toes. Ouch!
So, when buying new shoes in store, ask the salesperson for a tape measure and actually measure this distance. You will get an immediate read on whether they're comfortable or not. (Don't forget to ask if they run true to size, wear them around the store for as long as possible, and order your exact size).
If you're ordering online and can't psychically measure the shoe, what you can do is measure your computer screen and compare it to other heels on the same site. The heels with the longer distance from heel to sole will be more comfortable, and the heels with the shorter distance should be avoided.
So, there you have it: a trick for immediately telling whether shoes are comfortable or not. Will you try it?
More from SHEfinds:
How To Make High Heels More Comfortable
The Secret To Wearing High Heels Without Any Pain