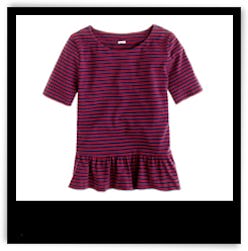 The votes are all in and it appears we're unanimous in our affinity for stripes! No fleeting trend, induct these lined looks into your closet to fulfill your chic seasonal quota.
J.Crew, Peplum Stripe Top, $58
This top merges stripes with peplum to create a sweet look.
Reiss, Pleated Bubble Skirt, $210
Switch out your basic black skirt for this bubble number to make your mark in metallic.
Rag & Bone, Bedford Sweater, $395
Complement the gradient neutral hues of Rag & Bone's crew neck sweater with clear or colorful crystal baubles for a splendid balance.
Paige, Hoxton Striped Skinny Jeans, $199
Induct an element of cool into your winter wardrobe by opting for these striped jeans over your go-to baby blues.
Cut 25, Leather Trim Zip Cardi, $425
A modern take on the cardigan style, this multi-toned jacket will impart edge into your outfits with its leather trim and zipper pockets.