Street Style: Grunge Gets Glam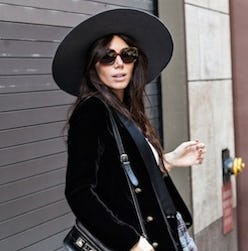 Paris Fashion Week kicked off yesterday, and Team Zoe contributor Natacha Steven is reporting right from the front lines! Here, she gives us an up-close look at her grunge-chic street style.
Paris Fashion Week, Day 1: Wrap It Up
Photos: Lydia Hudgens
On her look… "Phillip Lim was the man who brought the game-changing sweater wrap to the forefront. And now, rocking my PFW attire, I'm letting my flannel (okay, and snake booties) do the talking in my walking. Anyone can flaunt the plaid trend—it's the one not-so-subtle piece that gives a good-girls-gone-grunge impression. I decided to have some fun with my tartan friend; I also figured it could be my mini skirt salvation when the wind decides to strike my path…"
Outfit credit: Isabel Marant skirt, Maje t-shirt, Zara jacket, Saint Laurent boots, Vanessa Mooney necklace, Paola Mendoza snake bracelet, John Dalia sunglasses (Marilyn style), Vintage shirt from Urban Outfitters renewal, Gedney hatattack fedora hat, Proenza Schouler purse.