I Took A Photo Of My Outfit Every Day For A Year, And This Is What I Learned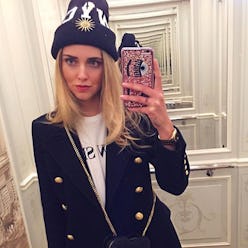 A few things you should know about me: First, I'm not that obsessed with myself. Second, I am obsessed with clothes and always have been. Finally, while I've come to love Instagram, I've never dedicated myself to being a full-time 'grammer (I blame this mostly on my lack of a reliable Instagram husband). Fashion and social media have always felt like the most relevant forms of self-expression and identity to me, so I've chosen to embrace them. Naturally, I was intrigued when Instagram Stories first launched. It quickly became apparent it was a more authentic, behind-the-scenes glimpse into what friends and influencers are up to without that overly curated feel of Instagram feeds. A picture didn't have to be perfect to be posted in a Story, but it still told one—what you were doing, eating or wearing.
One day, around the time of the launch, I happened to really like my outfit and the new shoes I was wearing. I also happened to have just moved into a new apartment with a big closet mirror, stark white walls and great natural lighting. Taking it all in, I gave myself one last glance before heading off to work and, on impulse, I swiped open my app, snapped a quick picture and ran out the door. I hadn't planned to share it publicly—and maybe it was the exhaustion from moving that made me decide it was okay—but I did. My #MirrorPic was born.
Homepage Image: @chiaraferragni
After adding it to my Stories, I flung my phone away from me the way you do when you've sent a risky text. A commute, some emails and multiple cups of coffee later and I'd forgotten I'd posted it. As soon as I remembered, I was convinced I'd voluntarily embarrassed myself. I scrambled to take a second look. I knew people would judge me for the outright selfie, but worse, I worried they might think I was trying too hard—a cardinal sin for any fashion girl. I reminded myself that Instagram is a source I use for fashion inspiration, and I shouldn't feel self-conscious for participating just because some others don't use it the same way.
I began posting here and there, when I felt I had a fun piece or a cool new trend to showcase. But fashion is supposed to appear effortless, and I didn't like the idea that if I only posted some days my effort would be obvious. So I decided to commit to posting almost every workday morning, plus random weekend outfits at all hours. My favorite #MirrorPics are from girls' nights, when we really try hard, posing together as a squad. I'll also occasionally add in my own styling tips or sassy comments. I do, apparently, think I'm funny.
Fast-forward a year and I've overcome most of my hesitations and I finally accept that I like to try, and that's okay. I like putting effort into my outfits for who I want to be and how I want to feel that day. I like having an extra 15 minutes (or even an extra five) in the morning to do my hair. Trying has never felt like trying to me, and I think that's what makes what I do genuine. A fashion girl can tell if your style is inauthentic, but if you present yourself as you are, as you perceive yourself, it doesn't really matter how someone else perceives you. I stopped worrying when I realized all I'm doing is being myself.
So I continue to share. It's a privilege to dress up for a fashion office, but in a way, sharing outfits in my Stories makes the clothes I invest (all) my money in that much more valuable. Everyone gets to see them! (And I'll admit, it's fun to be able to check exactly who does.) My avid documentation challenges me to be creative with my styling to avoid outfit repeats. Since I dress for my mood, the images have become a sort of modern diary. It's crazy how much I can remember based on what I was wearing a particular day.
The best part about my #MirrorPics, though, is sharing my creativity with others. This past year, as I've reached several milestones of adulthood, I've made an effort to connect more closely with those who share my passions. As cheesy as it sounds, Instagram has helped me do this. My #MirrorPics spur messages with old friends and new acquaintances who are equally excited about a new trend or shopping find I've featured, and these conversations always make my day and often lead us to chatting about more than just clothes. People say fashion is materialistic and social media is superficial, but I've seen firsthand that this isn't always the case. Sometimes shoes just make people happy, and sometimes people can bond over how happy those shoes make them. Next time I catch myself thinking, Am I trying too hard? I'll proudly know the answer: Yes, and I'm happier for it.
For daily outfit inspo, follow me here. For tips on how to be happier on social media, read this.