At The Office With Rachel Zoe: Styling For Awards Season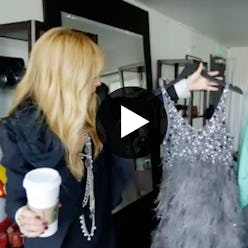 Obsessed with the glitz and glamour of awards season? Take a behind the scenes look at a day in the life of our ultra-chic boss Rachel Zoe and her styling team as they prep their clients to turn heads on the red carpet.
From customizing the perfect designer gowns to pulling a plethora of sparkling jewels and accessories, awards season can get pretty hectic—to say the least. Check out how RZ gets through the madness (hint: it involves her fave on-the-go latte and some serious love for her career).