Fashion Girls On What Makes Style Endure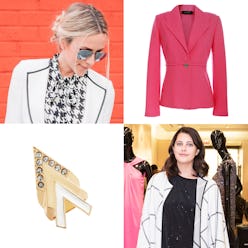 Here at The Zoe Report we love nothing more than gathering interesting women together to chat about fashion, which is exactly why we were thrilled to partner with iconic luxury brand St. John on a conversation series in their boutiques across the country. We kicked off the moderated talks here in our home of LA with Damsel in Dior blogger Jacey Duprie, then made our way to San Francisco to be fascinated by Sandra Lopez—director of business and marketing strategy for wearable tech in fashion at Intel—and finally wound things up in chilly Chicago for a talk with Chi City Fashion blogger Jena Gambaccini. We covered a range of interesting sartorial subjects, including what makes style endure, the hottest spring trends and so much more. Read on for some of our favorite takeaways from the various events and find out the fashionable women's current must-haves.
In Conversation With St. John
Photo Courtesy: Felicia Lasala
LA: In Conversation with Jacey Duprie, Damsel in Dior
"Enduring style is about imagining the way you want your style to evolve and endure. You have to understand what it is you want your style to say about you. When you make selections to build out your wardrobe, you are subconsciously pulling from images in your mind as to what you want to exude on the outside." —Jacey Duprie
Jacey's Must-Have
"I'm excited about the color pink making a comeback for spring. My first nice handbag purchase was pink, so I am thrilled to be wearing it again. It's important to invest in good pieces because styles always come back around."
Pretty In Pink
San Francisco: In Conversation with Sandra Lopez, Intel
"Enduring style begins with understanding your personal brand: Your personal style should be a reflection of your personal brand. How you present yourself is a form of nonverbal communication. Not dissimilar from corporate branding, your brand—which includes your style—should remain fairly consistent and evolve over time." —Sandra Lopez
Sandra's Must-Have
"Statement jewelry is a must in every woman's wardrobe. I love the big, heirloom rings my mother has handed down to me, as well as pieces from my favorite jewelry designers."
Bold Bling
Chicago: In Conversation with Jena Gambaccini, Chi City Fashion
"I think the key to enduring style is not giving into trends (or if you do, do it in a subtle way) and really focusing on quality. Brands like St. John, Chanel, Hermes and The Row use the highest quality materials—their styles are not only seasonless, they're timeless and can be passed down for generations." —Jena Gambaccini
Jena's Must-Haves
"Every woman should own a pair of leather pants, a stylish yet warm coat and a day-to-night bag."
Cozy Cool