What Your Significant Other Really Wants You To Wear On Valentine's Day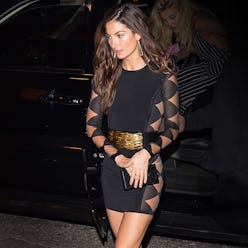 If you're in a relationship you know dressing for your significant other often involves items that don't fit your personal style. And while some of us are more inclined than others to indulge their whims on Valentine's Day, a few suggestions never hurt. We polled coupled-up dudes on both coasts for the items they'd love to see on their significant others, and summarized their feedback into digestible tips we can all use. So whether you're heading out with someone special or just figuring out what to wear on your next blind date, a few ideas ahead to keep in mind.
Woo Your Boo
Tip: Take This Opportunity To Dress Up
"Fitted mini skirts! Oooh oooh, or those amazing backless cocktail dresses."
"I would like to see her wearing a sexy, revealing (but still conservative) dress to dinner."
"Black tight dress...low cut front, open back and a slit up the leg."
"It would be fun to see him in something sleek and formal."
Tip: Bust Out The Sky-High Heels
"Metallic, sparkly or strappy."
"Maybe some nice heels instead of leather boots."
"Something bright or with color."
"A really high heel makes her legs look amazing."
Tip: Sometimes Being Relaxed Is Just As Alluring
"Maybe a vintage T-shirt with leather tights and a jean jacket."
"Vans, Airmax 90's or some classic Adidas."
"She has a cute white turtleneck that she does not wear frequently. I may be the only man to ever think this about a turtleneck, but it is downright sexy!"
"A crisp, white shirt with her hair pulled back."
"A vintage LA Rams sweatshirt. It's timely."
"I love how she looks in everything but it could be nice to check out a preppy look if not only for the sake of trying something new."
"A plain white T-shirt, kind of see through."
"Sneakers!"