Zoe Reporters: Meet Box of Style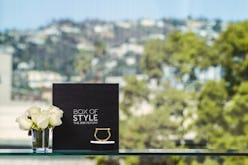 As a loyal reader, you know we love nothing more than spilling all of our latest obsessions. Well ladies, we're taking it to the next level with our new Box of Style. We are proud to announce that every season Rachel and our TZR editors will hand-curate more than $300 of our favorite fashion, beauty and lifestyle items and deliver them directly to you. The best part? It'll only cost you $100 (yes, we love you that much).
Our first box ships just in time for spring and includes the Miansai modern screw cuff (valued at $200), in addition to other chic picks we love. Be the very first to shop Box of Style and enter for a chance to win a trip to Miami at TheZoeReport.com/shop.