Watch Rachel Zoe Reveal The Spring 2017 Box Of Style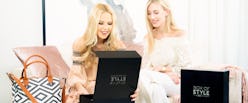 The wait is over: Our spring Box of Style is now shipping! Tailor-made for women on the go, this collection was carefully curated by Rachel and her team to take you from work to the weekend with glamorous ease. Plus, every chic item inside the box (think: a striking black and white carryall, a set of adjustable earrings, a screen-printed scarf) comes from a female-founded label, championing women's empowerment from the creator to the wearer. Watch here as we reveal its fashion-forward contents in full, valued over $400. Then become a Box of Style member to get yours now.
Inside The Spring 2017 Box Of Style
The Weekend Warrior
Tribe Alive Custom Carryall, retail value: $238
Handmade of foot-loomed black and white fabric by artisans in India, this striking handbag is detailed with cognac brown leather handles. Wear it everywhere from your morning coffee to a work meeting to a music festival.
The Skin Savior
Tatcha Polished Rice Enzyme Powder, retail value: $65
Inspired by Eastern skincare traditions, Tatcha's face polish is truly top-shelf. Water-activated, the prized powder combines green tea, red algae and rice-bran extracts to form an effective exfoliant that brightens and tones while remaining gentle enough for everyday use.
The Totally Adornable
Adornmonde Ivo Earrings, retail value: $62
From hoops to bars, these modern face framers are effortlessly convertible for a personalized look. Members can choose a silver or gold and wear them together or piecemeal according to their mood.
The Tied & True
Symbology Scarf, retail value: $50
A fair-trade favorite, this vibrant, supersoft scarf features a peacock-inspired print with a gold-and-berry colorway to boot. Tie it in your hair, around your wrist or on your bag—anywhere that needs a pop.
The Haute Hydrator
BKR 500ml Water Bottle, retail value: $35
Fashion meets function in this cool water bottle that'll motivate you to stay hydrated around the clock. Crafted from glass and silicone in a sleek nude shade, it puts disposables to shame.
The Sweet Treat
Butter London Piece of Cake Nail Polish, retail value: $18
Transition away from winter's dark manicures and toward this fresh, dusty pink shade. A 3-free lacquer, the polish achieves a gel-like finish without harmful ingredients.
Sponsored Product
Stella Artois Chalice, Retail Value: $13
663 million people around the world lack access to safe water. Every limited edition chalice helps provide five years of clean water for one person in the developing world thanks to Stella Artois and Water.org. Leave your mark at BuyALadyaDrink.com
Become A Member
Become a Box of Style member in time to receive the spring edition—boxes are now shipping.
It's like Rachel Zoe is styling you all year long. Order your spring Box of Style now.