Treat Yourself: 5 Little Life Upgrades You Don't Own, But Should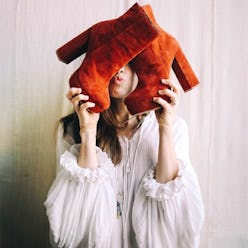 We love the idea of a splurge purchase, but treating yourself to something nice doesn't have to mean a major investment you save for a special occasion. We're all about upgrading everyday items and adding a bit of luxury to your daily routine. Here, we share five purchases that will infuse a bit of "special" into everyday life.
A chic bedside ring bowl.
Leaving your rings precariously resting at the edge of your nightstand? No self-respecting jewelry lover should. Instead, dress up your bedside table and keep your jewelry safe at night in a cute figurine, like this brass horse ring bowl.
A designer passport cover.
What could be more jetset than a passport as sexy as your soles? If you travel often, a case like this is a fun gift to yourself. Every time you open it, you'll remind yourself of all the good times had, as well as those yet to come.
A pretty mirrored tray.
A catchall for books, candles, and more, trays can turn clutter into décor on your ottoman, coffee table, bar cart, or even at the foot of your bed. A mirrored one looks extra glamorous, while also reflecting light and adding a little shine and energy to your space.
A fashion-lover's phone case.
Sure, you could pick up a basic case from your local store. Or, you could drape your phone in Lanvin. What does your heart tell you to do?
High-tech sneakers.
We know: You generally factor in good looks more than technical specs when it comes to picking out shoes. But when it comes to your workout shoes, performance is just as important as aesthetics. Luckily, new it brand APL has both: a lightweight design with a special construction that keeps your foot in a prime position for running (it even helps boost your forward motion thanks to the brand's trademarked Propelium feature), as well as a seamlessly woven and sleek metallic outsole that makes these babies eye-catching too. Get ready to be the bounciest, most badass girl in your cardio class.