Why Everyone Wants To Shop In Toronto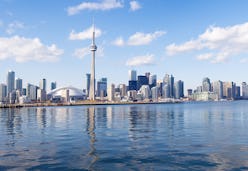 Chances are you've been hearing people talk about how cool Toronto is these days. It's long been a buzzy and diverse metropolis, but it seems the rest of the world is finally catching on to its charms, particularly in the retail and fashion arenas. Like it's American counterparts of LA and NYC, Toronto is now a shopping haven for those looking for everything from vintage finds, on-trend duds and everything in-between. Don't believe us? Here, we share the chicest, must-hit spots for the next time you pay a visit to our Canadian neighbors.
Toronto's Finest
Mackage
It's the go-to for all things outerwear (a must for Canadian winters). Known especially for its incredible sumptuous leather pieces and down-filled coats, this place is all about exceptional tailoring and details.
220 Yonge Street, Toronto
Saks Fifth Avenue
S5A finally opened its doors in the city last year and the massive store is a luxury playground, offering floor upon floor of the latest in clothing and accessories, and delicious spots in which to dine after cruising the goods. Also worth noting is Pusateri's, the store's sprawling food hall that bears significant resemblance to Harrods Food Hall in London—it features a pizzeria, a deli, a bakery, a vegetable butcher, sushi, seafood counters and a champagne bar. Pick up a Céline It bag and your weekly produce in one go.
176 Yonge Street, Toronto
Hudson's Bay
Part of Hudson's Bay Company (aka North America's oldest company), this department store offers a mix of established designers and emerging names, and you can find pieces at every price point. Its jewel, however, is The Room—a space that features high fashion and haute couture. The Room can only be found in the retailer's Toronto and Vancouver stores.
176 Yonge Street, Toronto
Holt Renfrew
Holt's (as Canadians affectionately refer to it) began as a hat shop and evolved to become known for its incredible portfolio of European and local designers. Luxury at its best, you'll find the crème de la crème of clothing, accessories, shoes and beauty.
50 Bloor Street West, Toronto
Distill Gallery
This unique space in the city's Distillery District offers ceramics, glass, jewelry, wood, metalwork, mixed media and textiles from both emerging and established Canadian designers. It's a great spot to find something one of a kind while supporting local talent.
24 Tank House Lane, No. 103, Toronto
Oak + Fort
With a focus on minimalism and attainable luxury, Oak + Fort draws inspiration from various forms of art and culture to determine its assortment of clothing and home items. Expect a balance of throw-on-and-go basics and more unexpected styles; think Cos meets Zara.
666 Queen Street West, Toronto
North Standard Trading Post
If you're on the hunt for rustic, look no further. This boutique specializes in home goods and apparel fit for the uptown crowd and hipsters alike. You'll find Canadian heritage pieces such as Hudson's Bay blankets and Minnetonka moccasins alongside trendy, of-the-moment items. Fun fact: Almost everything in the store is made in Canada.
1662 Queen Street West, Toronto
Drake General Store
Part of The Drake Hotel—a local favorite—the Drake General Store simultaneously serves as a classic general store, flea market stand and museum shop. If you love all things whimsical and nostalgic, head inside. You'll find in-house and local labels as well as cool international brands.
1151 Queen Street West, Toronto
Over The Rainbow
What started as a tailor-made denim store has grown to become the country's largest denim emporium featuring 30-plus brands with every fit, shade and style imaginable. The shop has expanded beyond denim to include other product categories too. Bonus: On-site alterations are available.
101 Yorkville Avenue, Toronto
Jonathan + Olivia
Come here for high-quality directional fashion. Featuring a mix of established runway designers, high-profile brands and up-and-coming names, the shop stocks fashion darlings from Acne Studios and Opening Ceremony to Isabel Marant and Alexander Wang.
49 Ossington Avenue, Toronto