Tommy Hilfiger Just Designed A Collection For People With Disabilities, And It's Making Our Hearts Swell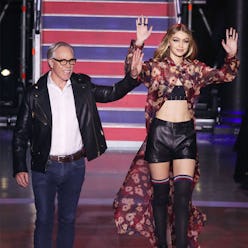 We've seen Tommy Hilfiger branch out into plus-size and children's clothing, but it wasn't until the all-American designer launched a collection for boys and girls with disabilities that we witnessed a major fashion brand finally accommodate the needs of that largely untapped market. The moment marked a shift toward inclusivity, sending a sign to the broader industry that designs must cater to all people, regardless of age, size and ability.
Since then, progress came to a disappointing halt—and just this past Fashion Month, we even remarked on the lack of runway representation for people with disabilities. However, things are looking up once again, as Tommy Hilfiger recently released an expansion of that very collection—this time, its first adaptive apparel line for adults.
Debuting online today, the new offering is made up of 37 men's and 34 women's styles based on items from the brand's sportswear collections. And unlike everyday wear, the collection is specifically designed with the consumer in mind, featuring adjusted seams and openings for easy dressing—think modifications like magnetic zippers, Velcro closures and pull-on loops that accommodate various kinds of disabilities, orthotics and physical ailments.
In a statement, the designer described his venture as "the democratization of fashion," and we certainly agree. After all, this might turn out to be the push the fashion industry needs to put people of all abilities at the forefront of design.