The Spring Box of Style Hero Item Revealed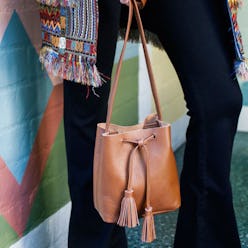 Festival season is just months away, and while it's the music that draws us in, the free-spirited style gets us just as excited.
We're channeling those good vibrations in our spring 2016 Box of Style and are proud to reveal this season's hero item: a concert-ready leather bucket bag made exclusively for us by Los Angeles brand Shaffer LA—a $150 value.
In addition to this gorgeous style staple, our first box of the year will feature fashion, beauty and lifestyle finds (worth more than $300) that will help you channel your inner bohemian whether you're festival-bound or not. Become a member today and get ready to rock—boxes ship beginning March 1.