The Cool-Girl Styling Trick For Any Summer Event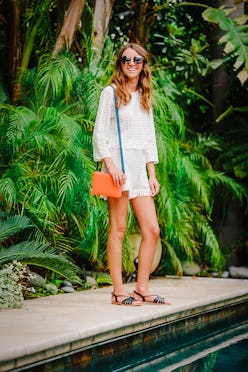 We love getting invitations. You're throwing a pool party? We'll be there! Organizing a backyard brunch? Sign us up! Hosting sunset cocktails? Count us in! Choosing an event-appropriate outfit every time is a little less of a no-brainer. This season, instead of blending into the sea of denim cutoffs and flirty sundresses we're opting for sharp, matching sets. Whether the event calls for casual, cocktail or polished attire, there is a coordinated ensemble for every event on your summer calendar. Here, we show you three of the best.
Pool Party
A lightweight crochet set is equal parts bohemian and fashion forward. Complete the casual look with oversize sunglasses, flat sandals and a bright purse.
Photos: Austin Starrett Winchell
Extra points for details like the fringe trim on the hem of this top and shorts.
Backyard Brunch
Linger over pancakes with friends in a feminine silk ensemble. The relaxed silhouette of this pleated tank and midi-skirt set keeps the vibrant hue casual enough for day.
Balance the bright color with muted accessories in shades of grey.
Head-to-toe prints can feel dated, but the on-trend cut of this tunic and trouser ensemble keeps the overall vibe decidedly cool. Finish with a fringed purse and stacked sandals.
Pick out the rosy hue with a berry lip stain and keep jewelry to a minimum, allowing the print to take center stage.