Target Does It Again: 5 New Arrivals We're Obsessed With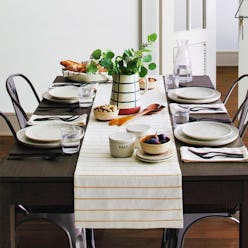 If you thought Target couldn't get any better, prepare to be delightfully shocked. We're only a month and change into 2018 and the affordable retailer has already proved it's going to take all our money this year. And to be honest, we're 100% okay with it.
From new skincare that feels way more expensive than it is to making sure your home looks like your Pinterest board, our favorite store is promising quality new lines at budget-friendly prices. Here are five of the best new arrivals.
The Seaweed Bath Co.
It's a well-known fact that we're obsessed with affordable skincare. So when we heard about The Seaweed Bath Co.'s skincare line launching at Target, we were extremely excited to get our hands on it. If you don't already know, its products are created with hand-harvested organic seaweed off the coast of Maine, which is proven to effectively and naturally detoxify, replenish and protect your skin. Bonus: It's also vegan and Leaping Bunny Certified.
What we love most is that it feels much more luxurious than its ultra-affordable price tag. Hands down, our favorite product is the Marine Night Therapy. After just a few uses, we saw a considerable difference in our skin's hydration—and now it's a nightly staple in our routine.
We promise your skin will thank you all winter (and well beyond).
Universal Thread
If you've walked into Target and wondered if a Madewell pop-up was happening next to the LaCroix display, then you've spotted new launch Universal Thread. This denim-based and -inspired collection includes apparel, accessories and shoes—all under $40!
As if we weren't already excited, Universal Thread's offerings will be entirely size-inclusive from the get-go. The line will be updated monthly for seasonal offerings.
Kristin Ess 2018
We spent 2017 obsessed with every product we could get our hands on from celebrity hair guru Kristin Ess. One year later, we're still religious users of her line. No one creates high-end haircare at an affordable price quite like this.
So when 2018 began with a surprise launch of 11 new products, we knew this year was going to be a great one. From purple shampoo for blondes to a host of products that make air-drying your hair (and still looking presentable) a real, viable option—we can confidently say our kween has done it again.
And if you were hoping to get your hands on the Rose Gold Temporary Tint, a spray that temporarily gives your hair a millennial pink hue, you'll have to wait patiently for it to come back in stock.
Hearth & Hand Spring
Our favorite TV couple (okay, tied with Randall and Beth from This Is Us) has given us more shiplap-inspired pieces to love for 2018. While the spring line launched shortly after Christmas, it's finally available nationwide and we're ready to start decorating like the temperature is warming up.
What you'll see that you didn't in last year's collection: office supplies, lamps and more greenery options.
Good Chemistry
If you've been looking for a quality fragrance at a crazy good price then let us introduce you to Good Chemistry. We are more than excited to give Target's first-ever exclusive fragrance brand a try. Scents are available in rollerballs or full bottles and are named after your potential mood: like Good & Grounded (for life's calmer moments) or Vibrant & Playful (for a night on the town).
More from The Everygirl:
8 Incredible Products To Grab On Your Next Drugstore Run
Craving: Shop Our Editors' 5 Current Obsessions