See Everything In The 2016 Summer Box Of Style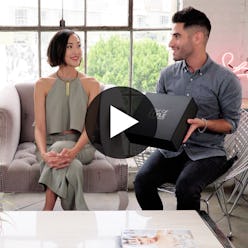 Looking chic in the heat simply requires a carefully selected arsenal of fashion and beauty products, which is where Rachel Zoe's expertly curated Box of Style comes in. Offering over $300 worth of seasonal must-haves for just $100, signing up to receive this array of summer hero pieces is an absolute no brainer. Watch Chriselle Lim of The Chriselle Factor uncover our on-trend obsessions and read on for a break down of each item. You won't want to start your summer without it.
Inside the summer Box of Style
Hero Item: The Dream Team
Luv AJ Pavé Tusk Lariat & Open Crescent Ring Exclusive Set, Retail Value: $190
Who says dainty jewelry can't make a serious statement? Pair this exclusive lariat-and-ring combo from cult brand Luv AJ with everything from jeans and a tee to a plunging evening dress.
The Caftan
Michael Stars Pastel Gardens Cover Up, Retail Value: $58
Whether you layer this vibrant caftan over a bathing suit on the beach or belt it over a slip dress for cocktail hour, you're sure to exude effortless glamour.
The Do-Not-Disturb Signs
YHF Los Angeles Cashton Brown Sunglasses, Retail Value: $40
What summer hero kit is complete without versatile and timeless sunglasses? This style was tested by every member of Team Zoe to ensure it flatters every face shape. We guarantee you'll never leave the house without them.
The Beach in a Bottle
OUAI Haircare Wave Spray, Retail Value: $12
The only thing more alluring than textured beach waves is the knowledge that your textured beach wave spray isn't ravaging your hair. This formula boasts rice protein instead of salt to provide the fresh-from-the-surf texture you're craving, minus the crunchiness.
The Styling Tool
DreamDry The Dream Turban, Retail Value: $30
Treat your tresses with care by using this super absorbent turban (instead of a coarse towel) to speed the drying process without frizz. Thanks to a button-fastening you can easily go about your routine without it slipping out of place and the lightweight fabric won't take up precious space in your carry on.
The Healthy Glow
Juice Beauty Green Apple SPF 15 Brightening Moisturizer, Retail Value: $38
We're big fans of multi-tasking products, so when we discovered this organic brightening moisturizer with SPF 15 we instantly knew it had to be a part of the summer box. Reverse existing skin damage with the knowledge you are also infusing your skin with a hydration and protection so light you can wear it under your makeup.
Become A Member
Become a Box of Style member before the summer box sells out. Boxes now shipping.
It's like getting styled by Rachel Zoe all year long. Order your summer Box of Style now.