Spring Pastels Reimagined With A Dose Of Unexpected Edge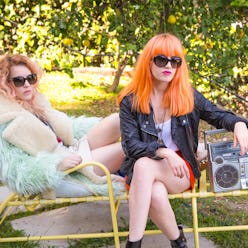 Instead of treading the beaten fashion path this spring, why not march to the beat of your own chic drum? For a lesson in how to master unexpected style, we let the girls of cult band Deap Vally pillage our racks of Coach's Spring 2015 Collection and show us how they'd rock it (pun intended). Here, they demonstrate how to infuse a hefty dose of rock 'n' roll cool into your wardrobe via a sweet-hued palette of edgy spring pieces.
Credits: Photographer: Monti Smith
Deap Vally Artists: Julie Edwards and Lindsey Troy
Trade your true-blue style for an unexpectedly bleached denim jacket with stud detailing. Pair with vintage bell-bottoms and layered necklaces.
Turn heads in an oversized, mint-hued faux fur coat that'll keep you warm on a long night out. Cut the sweetness with a concert tee and studded mini.
Juxtapose saccharine pink and periwinkle blue with vintage denim for a tongue-in-cheek ode to traditional spring pastels. Take it a step further with tangerine shoes (and hair).
Who says a leopard print jacket can't be a neutral topper for spring? Mix prints by wearing it with a striped sweater and adding a jolt of color via an acid yellow skirt.
Layer a vintage-inspired argyle cardigan over a whimsical cartoon tee. (Fun fact: This Coach shirt was designed by the girls' good friend, artist Gary Baseman). Finish the look with a buttery leather A-line skirt in a quirky shade of mauve.