Sports Bra Showdown: Which Is The Best One For You?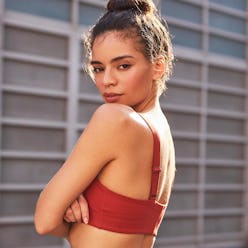 Photo Credit: @girlfriendcollective
I honestly didn't think it was possible, but I've managed to find something more annoying and frustrating and soul sucking than shopping for bras—and that's shopping for sports bras.
But since I like to work out, shopping for sports bras is a necessary evil. And so I've done it, but grudgingly. Meaning, I've just never dedicated a lot of time to thinking about whether the sports bras I have are the right choices for the workouts I'm doing, or if they provide me with the proper support. I usually just throw on whichever one I've got that will minimize bouncing and go. While not an ideal sports bra-choosing methodology, I've also never really worked out consistently enough for it to really bother me.
Lately, though, I've been doing this thing where I try to get in shape. I've been frequenting workout classes across the city, and I've also been running a bunch. And you know what's required of you when you run? A really good sports bra. Unlike yoga or barre, running really requires your boobs to stay in place—this is an especially daunting feat if, like me, your cups runneth over into the DD department.
So, with the many new Instagram-friendly sports brands launching lately, I decided to test them out alongside more long-standing ones to see which worked well for me. Ahead, I narrow down which sports bras I think are best for each kind of workout.
Best for: Low-Impact Exercise
First up is an option from the very trendy Girlfriend Collective. I will give it an A for aesthetics but, as soon as I put it on, I knew it wasn't going to cut it for a run of any sort. Not even a jog. The fabric around my rib cage was very loose and made me feel like my boobs were going to fall out any minute. it's suitable for yoga or a street style photo session more than anything else.
Girlfriend Collective, Apricot Topanga Bra, $38, available at Girlfriend Collective
Best for: Low-Impact Exercise
Outdoor Voices is another brand that's been here gaining traction on Instagram- and on the NYC subway, since I seem to see at least one girl every morning carrying the easily recognizable OV tote bag. Similar to Girlfriend Collective, the bra itself is very cute, but it provided very little support. If you're going for a hike or doing strength training, try this out.
Outdoor Voices, Steeplechase Bra, $55, available at Outdoor Voices.
Related: Women On Twitter React To Today's Huge Sexual Harassment Allegations
Best for: Medium-Impact Exercise
I have a bone to pick with 80 percent of sports bras, which is that women need more than S, M, L as size options. Imagine if your regular bra only came in three sizes and didn't take into account nuances like cup and strap size! Sounds like a nightmare, huh?
Anyway, this Nike bra is guilty of this sizing crime, but it also, at least, comes equipped with built-in-cups which help in the support department. I wouldn't necessarily say it's the best for a run, but you can get by wearing it in a spin class.
Nike, Zip Bra, $49.97, available at Nike.
Best for: Medium-Impact Exercise
This Under Armour bra is also a good choice for someone looking for medium support. It's a compression bra, meaning it will fit securely to your body. It also comes with molded cups that you can take out if you so please. And, maybe my favorite part it, comes with a secret-ish compartment in the front where you can store your keys or credit card.
Under Armour, Crossback Clutch, $49.99, available at Under Armour
Related: The Spring 2018 Runway Trends You Can Already Start Shopping
Best for: High-Impact Exercise
Lululemon's Enlite bra is new to the market and is already garnering a lot of coverage. Likely because it comes in 20 different sizes, which is practically unheard of, but totally necessary. The bra itself keeps jiggling to a minimum and can endure a three-mile run as easily as a high-intensity 305 fitness class. It's not cheap, coming in at $98, but I think it's money well spent for the kind of support boobs need, and also deserve.
Lululemon, Enlite Bra, $98, available at Lululemon
Related: Sunday Sales: 11 Things To Snag On Sale Right Now
Best for: High-Impact Exercise
More sports brands should not only carry their bras in specific cup and strap sizes, but they should also include adjustable hooks and underwire. This panache brand's bras come with a special 3-D motion technology that encapsulates the breasts rather than strapping them down. So, instead of squeezing the air out of you in order to keep your boobs in place, it takes more ingenious approach, and molds to them for support, making running, boxing, and just about everything a tinge more tolerable.
Panache, Underwire Sports Bra, $70, available at Nordstrom.
To read the original article visit Nylon.