The Shopping Trick All Stylish Women Rely On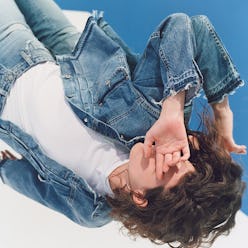 There are shoppers who can weed through infinite racks of clothing without getting overwhelmed, picking out the perfect piece from a seemingly endless array of options…and then there's the rest of us. How do they zero in on items that look like they were specially designed for them? The answer is in the details. While most consumers are satisfied with an average denim jacket, true trend-setters gravitate towards the version that boasts both impeccable craftsmanship and something different. Casual browsers ask themselves 'Does this look good on me?' but the experienced shopper will take it one step further and also ask 'Is this special?' Here, we share 8 pieces with the differentiating factors to look for when curating your spring wardrobe to ensure your style looks effortless, elevated, and most of all, unique to you.
Stand out from the crowd of high-waisted straight-leg denim with distressed details. This pair's hand-done knee rips and torn hem give it an authentic feel.
A boxy suede jacket is the thoughtful alternative to the traditional biker style for spring. We love the square pockets and taupe hue of this version.
Look for signs of high-quality and considerate craftsmanship, like the hem detailing along the edges and waist of this romper.
Longer shorts are poised for a major moment this spring. Opt for a style in a sun-faded wash like this well-worn in pair.
As anyone who has tried to fray their own jeans will tell you, it is not as easy as it looks. The one-of-a-kind hem detailing of this vintage-inspired pair is virtually walking art.
White tanks were not all made equal. Find one made of premium cotton that's meant to last and offers a little something extra, like a slight racer-back cut.
It may look like a simple blouse, but delicate pleating along the top seam plus the double-faced cuffs and collar take this top from ordinary to original.
The countless details on this denim jacket make it truly head-turning. From the unraveled hem to the dyed and faded edges, it's proof that thoughtful and unexpected extras make a loud statement.