The Sparkliest Pieces To Wear This Season (That Won't Break The Bank)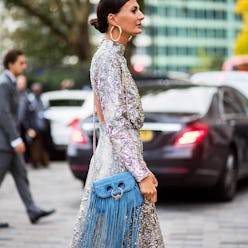 There's something about the holiday season that makes us want to dress like a disco ball, and sequins serve as our preferred method for doing so. (We choose to go about it in good taste, of course, meaning we opt for clean lines and classic silhouettes.)
For a showier moment, we love a shimmering dress with pared-back accessories like a satin pouch and simple sandals—classic. If not a head-to-toe look, tempering a sparkly top with denim is also a favorite. What's cooler than a one-shoulder silhouette with high-waist jeans and a killer party shoe? A simple T-shirt tucked into glittering high-waist trousers is likewise achingly chic.
Reaching beyond gold and silver is important—choose glimmering black for subtlety, or colorful sparkle for a bolder moment. If you go the vibrant route, be sure to keep your accessories and beauty streamlined—you don't want to OD on the dazzle.
Here, discover our favorite eye-catching pieces to wear for the party circuit—all under $200. Shine bright in style.
Shine Bright In Sequins
A jumpsuit with a touch of shine shows merry restraint.
Wine-colored sequins are so festive.
A rose-gold one-shoulder is killer with denim.
Likewise for this gorgoeus black version.
Display those legs in a navy mini.
The sequined blazer is our seasonal answer to tailoring.
Velvet and sequins? Holy holiday.
To us, this top equates to figure skater chic (in a great way).
A fringe hem gives black sparkles that little something extra.
A perfect choice when going for the gusto.
The ultimate LSBD (little sparkly black dress).
If anything, go for the gold.
This is what we meant when we said "bold."
Meet the perfect black sequined blazer.
This flutter sleeve is oh so charming.
High-waist sequined trousers are the epitome of cool-girl glamour.
The chicest way to do disco.
If you haven't considered ombré sequins, now is time.