Rent The Runway And Neiman Marcus Will Change Your Closet (And Your Life)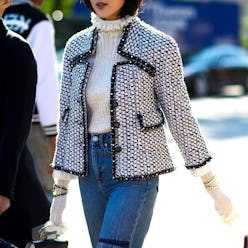 Rent The Runway and Neiman Marcus might seem like bitter competitors. After all, the rental company was basically founded under the concept of borrowing designer items without having to throw down serious cash at a luxury department store. But in a surprising turn of events, the two have decided to embark on a partnership that has promise to not only revolutionize the retail industry, but also change the way you shop.
Opening a 3,000-square-foot shop in Neiman Marcus' San Francisco location, Rent The Runway is giving customers a chance to wear clothing from brands like Jason Wu, Proenza Schouler and Diane von Furstenberg. (Seriously, you can rent from more than 400 designers while shopping for shoes, bags and accessories in-store.) Also available are stylist appointments, which might come in handy in planning for a wedding, a fancy date or even a bachelorette party.
"This is not just revolutionary for our business, but it is really more symbolic of how much the industry is changing and accepting innovative new models, and understanding that the millennial consumer has completely changed how she wants to get dressed," Rent The Runway CEO Jennifer Hyman said in an interview with StyleCaster.
With this VIP treatment and the ability to wear the same brands as your favorite celeb style icons, this presents a viable option to consider for your next big event.