Rachel Zoe's New Collection Is A Disco Dream (Just In Time For The Holidays)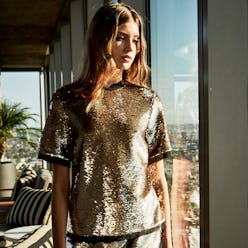 With the holidays right around the corner, we have a lot to celebrate. Whether you're hosting Friendsgiving dinner, vacationing with your significant other, attending a fundraising gala, or living large for NYE – finding the right ensemble is key. Luckily, Rachel Zoe's Resort 2018 collection offers the perfect dose of glamour for any and every event or your calendar.
"It's all about romance and sexiness… these are clothes that you want to dance in." -Rachel Zoe
The collection features a sultry 60's & 70's inspired metallic color palette with rich textures like fluid sequins and oversized pailettes. The line's signature femininity is balanced by Studio 54-worthy tailored pieces like metallic suiting. Browse our favorites then shop them here!