Rachel Zoe Unveils the Summer Box of Style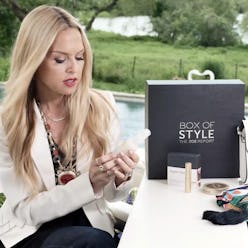 Summer is officially in full swing and with your calendar filling up with beach days and BBQs aplenty, planning out your warm-weather wardrobe might be the last thing on your mind. That's where we come in: Our quarterly subscription service, Box of Style, delivers you everything you need to make each season just that much more glamorous.
The summer edition of Box of Style just started hitting doorsteps all around the USA and we might be biased, but the items inside are kind of amazing. Here, our Editor-in-Chief reveals the 6 products that made it into this season's chic assortment.
Obsessed? Become a member in time for our fall edition which begins shipping September 1st. Members receive over $300 of style obsessions for only $100, so the real question is—why not sign up?
What's Inside
Hero Item: The Cross-Body Bag
The Cambridge Satchel Company White Leather Pushlock Handbag, Retail Value: $150.
Don't be afraid to swap out your everyday black handbag for a stunning white summer option. Bonus points: this cross-body style doubles a a clutch.
The Glow
Too Faced Bronzer in Sun Bunny, Retail Value: $30.
Who doesn't want to look like a glowing goddess in the summer? This two-toned bronzer gives you a perfect, natural beachy flush.
The Lip
Too Faced Lip Crème in Spice Spice Baby, Retail Value: $22.
This lip crème is the perfect shade of punchy pink that subtly plays up your natural pout—plus the formula is super hydrating, which is essential during the hot summer months.
The Wrap
Mara Hoffman Sarong, Created Exclusively for Box of Style, Retail Value: $98.
Be the envy of everyone poolside in this stunning Mara Hoffman sarong, created exclusively for recipients of the summer Box of Style.
The Refresh
O.R.G. Skincare Mineral Face Peel, Retail Value: $44.
Don't underestimate the effects of a gentle exfoliating product in the summer—it will keep your skin smooth, glowing and prepped for flawless makeup application.
The Styling Tool
Bristols 6 Nippies, Retail Value: $26.
Every stylist knows how crucial nippies can be when wearing sheer or lightweight fabrics—now Box of Style members are in on the secret.
Become A Member
Become a Box of Style member in time for our fall delivery.
It's like getting styled by Rachel Zoe all year long. Order your fall box of Style now.