Rachel Zoe Unboxes the Winter Box of Style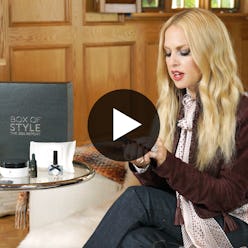 Our sold-out winter Box of Style is officially landing on doorsteps across the country and contains everything a glamorous hostess needs to sparkle this season. Below, watch our Editor-in-Chief Rachel Zoe unveil the gorgeous finds that made it into winter's assortment.
Missed out on the winter box? Become a member in time for the spring 2016 edition which begins shipping March 1st. Members receive over $300 of style obsessions for only $100, so the real question is—why not sign up?
Inside The Winter Box of Style
Hero Item: The Cocktail Ring
Alexis Bittar Gold Tone Swarovski Crystal Adjustable Ring, Retail Value: $198
During the holidays, more is more so bring on the glamour and throw on this bold ring to add a dose of sparkle to your look.
The Stationery
Our Heiday Notecard Set, Retail Value: $20
Every hostess needs a set of chic notecards on hand—use these to share your messages in style.
The Refresh
Honest Beauty Makeup Remover Wipes, Retail Value: $10
Remove a face full of makeup with these soothing wipes, which leave skin feeling clean and soft.
The Pout
Honest Beauty Truly Kissable Lip Crayon in Mulberry Kiss, Retail Value: $18
This gorgeous berry-hued lip crayon is made with ingredients that nourish and hydrate lips for a beautiful, full-bodied finish.
The Head-Turner
LELET NY Swarovski Crystal hair Pin, Retail Value: $98
Every glam girl knows that accessories are a must, so why stop with your hair? Throw on this delicate piece to add a little bling to your 'do this season.
The Hair Repair
MarulaOil Rare Oil Intensive Masque & complementary Rare Oil Treatment, Retail Value: $45
The cold winter months can be harsh on your hair, but with this replenishing masque you can kiss dry, limp locks goodbye and say hello to healthy hair all season long.
The Finishing Touch
Ciaté London Nail Polish, Retail Value: $15
A festive holiday ensemble isn't complete without the perfect mani to match—use this gorgeous polish as the finishing touch to your party-ready look.
The Styling Tool
Foot Petals Custom Tip Toes, Retail Value: $8
These foot petals are perfect for keeping you comfortable on the holiday-party circuit, whether running from desk to dinner or dancing all night long.
Become A Member
Become a Box of Style member in time for our spring delivery, shipping March 1st.
It's like getting styled by Rachel Zoe all year long. Order your spring Box of Style now.