See Rachel Zoe Go Into Stylist Mode With Erin Foster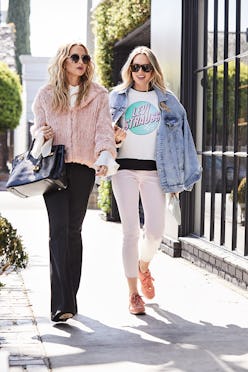 We're wholeheartedly obsessed with Erin Foster for her self-deprecating humor and spot-on observations about the world of celebrity. Contrary to what she'd have you believe, the woman is insanely busy, leaving her little time to put together ensembles for the multitude of events on her schedule. When the topic of spring trends arose she minced no words about her struggle to assemble a casual-yet-fashion-forward wardrobe. Thankfully she counts our EIC as a close friend, so Rachel offered to style a slew of looks for her to wear everywhere from brunch meetings to evenings out. See and shop the pieces they selected here.
Hair and Makeup For Rachel Zoe: Nikki DeRoest Makeup For Erin Foster: Debra Ferullo Hair For Erin Foster: Robert Vetica
Erin and Rachel have known each other for years, so the day kicks off with Erin teasing RZ for doing her morning coffee run in platform boots and a fur.
For the first ensemble, Rachel dresses Erin in a retro-inspired Levi's sweatshirt to add edge to a pair of rose-pink skinny jeans. Finished with tonal Nike sneakers and a rough-and-tumble trucker jacket, the look reads fashion-savvy without trying too hard and can easily segue from day to night.
Next, Rachel creates an evening-appropriate look Erin can take from dinner beyond. Naturally RZ reaches for a sequined jacket—this black version is from her collection—and teams it with a tee, high-waisted vintage-inspired Levi's in a dark wash and a pair of killer leopard-print pumps.
For daytime meetings or brunch with friends, Rachel suggests introducing prints into the mix. She selects this Dolce & Gabbana midi skirt and embellished flat slides and styles them simply with a versatile black tee and a trucker jacket. The result is playful without feeling prissy.
To round out Erin's spring wardrobe, she and Rachel land on this tone-on-tone look. Pastels are huge for spring but Erin doesn't love looking saccharine so Rachel chooses a coordinated hooded sweatshirt and jeans in sunshine yellow and pairs them with an edgy, deconstructed trucker jacket, raffia clutch and nude sandals.
Fun fact: In the spirit of style intervention, Erin also makes Rachel try on the hoodie, and despite her aversion to sweats, RZ does. "OMG it's soooo comfortable!" she exclaims to the crew who (all wearing hoodies themselves) nod in agreement. Intervention day, complete!